GRADES 6-8: CREATE & DISPLAY PROGRAMS
Give your students an in-depth experience and show off their amazing work!
These multi-day programs are custom-designed and may include both on- and off-site experiences. Students gain a deeper understanding as they dive further into content & the creative process. All art materials provided.
At the culmination of "CREATE & DISPLAY" Programs, museum educators mount a display in your school building of student artwork created during the program…maximizing the impact!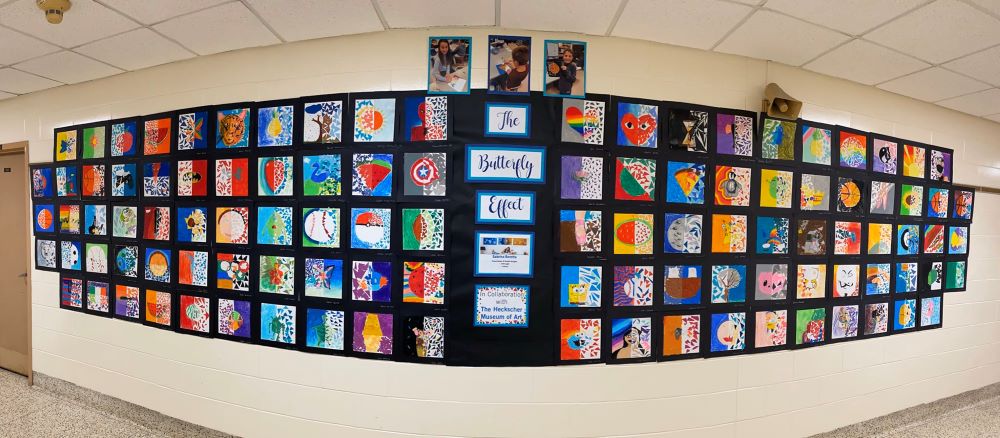 Scheduling
Monday through Friday
Times and number of classes are flexible
40 minute (one class period) sessions
Fees  
Fees include museum educator instruction, art materials, and custom display of all student artwork created in your school building.
Total fees determined by length of program (ex: 2 days or 3 days).
$225 per class per day, 5 classes or more: $200 per class per day
$175 per class per day, 5 classes or more: $150 per class per day (*Township of Huntington Schools)
* Reduced fees apply to public and private schools located in the Township of Huntington.  Eight school districts qualify (as well as private schools located with the Township): Cold Spring Harbor, Commack, Elwood, Half Hollow Hills, Harborfields, Huntington, Northport-East Northport, South Huntington.
Complete the form below to request a program date!
Once your form is submitted, a staff member will contact you within three business days.
Questions or concerns?
E-mail our education staff at Education@heckscher.org or call 631.351.3214.