The Heckscher Museum presents a new series of programs in conjunction with Art in Bloom. This exciting virtual lecture series explores connections between the natural world and the arts. Register for these fascinating programs presented through Zoom!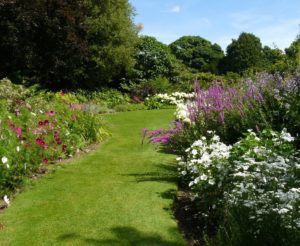 Beyond Gatsby: The Fabled Gardens of Long Island's Gold Coast
Tuesday, May 11, 5:30 – 6:15 pm
Members Free, Non-Members: $8
Join Landscape Architect CeCe Haydock and discover the Gold Coast gardens as they were originally built, while learning about their history, landscape design, and present condition. This virtual lecture will discuss the work of renowned architects and landscape architects including Delano and Aldrich, Carrère and Hastings, the Olmsted Brothers, and Beatrix Farrand.
Native Gardening & Audubon's Plants for Birds Program
Tuesday, May 25, 5:30 – 6:15 pm
Members Free, Non-Members: $8
Learn about native gardening and techniques that can be implemented in your own yard. Kathryn D'Amico, the Center Director of the Theodore Roosevelt Sanctuary & Audubon Center in Oyster Bay will discuss the history of the Sanctuary on Long Island and its major renovation to the gardens and center. She will review John James Audubon's work and how birds, nature, and art are connected. This virtual lecture will also include an overview of Audubon's Plants for Birds program and why native plants are so important to ecosystem health.
The Gardens of Downton Abbey
Tuesday, June 8, 5:30 – 6:15 pm
Members Free, Non-Members: $8
This virtual lecture will allow participants to "visit" the grounds of Highclere Castle, the setting of the acclaimed PBS series Downton Abbey. The Highclere Gardens owe much of their inspiration to Capability Brown, the famous 18th-century landscape designer. Roxanne Zimmer, Community Horticulture Specialist at the Cornell Cooperative Extension, will discuss the Secret Garden, the White Garden, the Monks Garden, the creation of follies, and more.
Art in Bloom is sponsored by Robin T. Hadley, Natalia & Paul Lamb, and Patricia P. Sands