In Collaboration with Vanderbilt Museum & Planetarium
Thursday, September 8, 2022
7 – 11 pm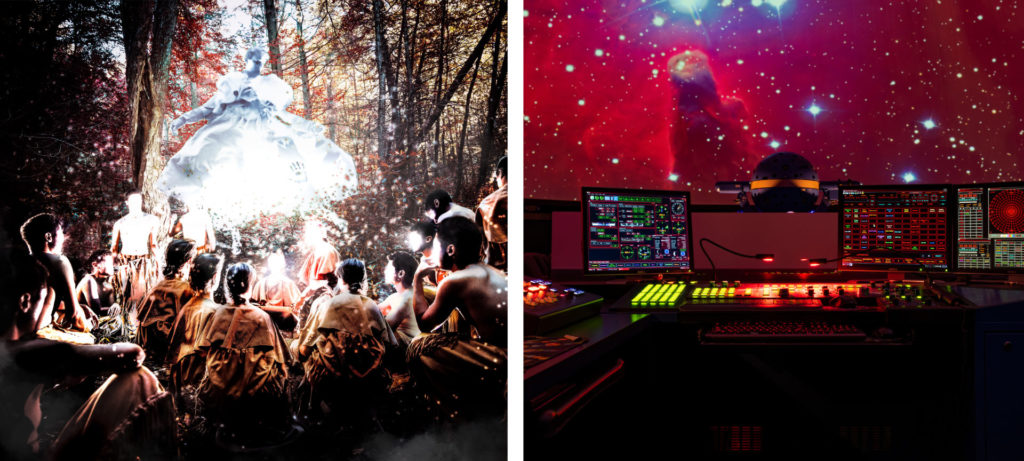 Begin the evening at The Heckscher Museum of Art exploring the exhibition Moonstruck: Lunar Art from the Collection. Join author and radio host Tom Ryan as he explores how the moon and outer space have inspired musicians since the beginning of recorded history. Travel back in time through sound and film clips, from Frank Sinatra to Bruno Mars, and everyone in between! 
Next, head to the Vanderbilt Museum's Reichert Planetarium (located at 180 Little Neck Road, Centerport, NY 11721) where telescopes will be available to take in fantastic views of the Moon, the planet Saturn, and other celestial objects in the night's sky! Enjoy a live, 45-minute talk about the night sky, stars, planets, constellations, and moon in the 60-foot domed planetarium theater, housing one of the finest star projection systems in the world. End the night with an amazing Pink Floyd light show, "Laser Dark Side of the Moon." Refreshments will be available for purchase at the "Under the Stars Café." 
Tom Ryan has been actively writing about music trends since the first publication of American Hit Radio in 1994. He has written three books and has a fourth in the works. Ryan is the founder of the music information website AmericanHitNetwork.com and is a musician and a co-founder of NYRMA (New York Roots Music Association), a Huntington based group of musicians that organizes theme related  performances. He also hosts "American Hit Radio" and "How Music Changed" on WHPC 90.3.
$35 per person
Registration recommended. Walk-ins welcome as space allows.