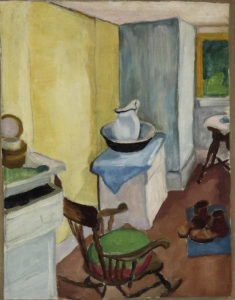 The Museum is proud to offer an Adopt a Work program for artworks requiring conservation. For the cost of conservation, this is a unique opportunity to become a proud "parent" to some of our most important treasures! Here are the details for this work slated for exhibition in Raise the Roof: The Home in Art, on view January 28, 2023, through March 2024.
ABOUT THE ARTIST
Esphyr Slobodkina was born in Russia and emigrated to the United Stated in 1928. She studied at the National Academy of Design in NYC, becoming known for artworks that melded representational and abstract elements. Slobodkina was a founding member of the (then) controversial American Abstract Artist group whose art from the 1930s and 40s greatly influenced the next generation of abstract American artists. In 1943, Slobodkina was included in Peggy Guggenheim's show Exhibition by 31 Women at the Art of This Century gallery in Manhattan. She moved from NYC in 1948 and established at home and studio in Great Neck, Long Island. At a time when it was difficult for women to advance their artistic careers (compared to their male counterparts) Slobodkina was recognized as a mid-20th century avant garde artist and a pioneer in championing the talent of women artists.
CONDITION
The surface of the artwork was micro tested in the lower left corner and found to have a layer of surface grime accumulation. There are areas of loss and abrasion along all borders. Two 2-inch Masonite squares are adhered to the work's support board which will compromise the support backing over time. Generally, the work is in good condition.
RECOMMENDED TREATMENT
Remove the layer of surface grime. Retouch all areas of pigment loss and abrasion along the edges. Apply a new surface of protective varnish. Remove Masonite squares adhered to the reverse. A custom 1 1/8-inch float frame will be constructed for this work. The frame will be painted a brown/ocher color to match the outer border on the artwork painted by the artist. The conservator will build a 4-member strainer support and adhere it to the board verso to properly fit and secure the artwork in the frame.
TREATMENT COST              $1,575.00
One of the principal responsibilities of a museum is the care and preservation of its collection. Even in the best of circumstances, objects age. Once an adopted work is conserved, the sponsor's name is forever associated with the object. Recognition is recorded in the object's credit line in our database and when on view. Gifts are tax deductible, and your generosity will be enjoyed by generations to come.
To adopt this work, contact Deborah Johnson at Johnson@Heckscher.org or 631-380-3229 ext. 708.