LONG ISLAND BIENNIAL 2020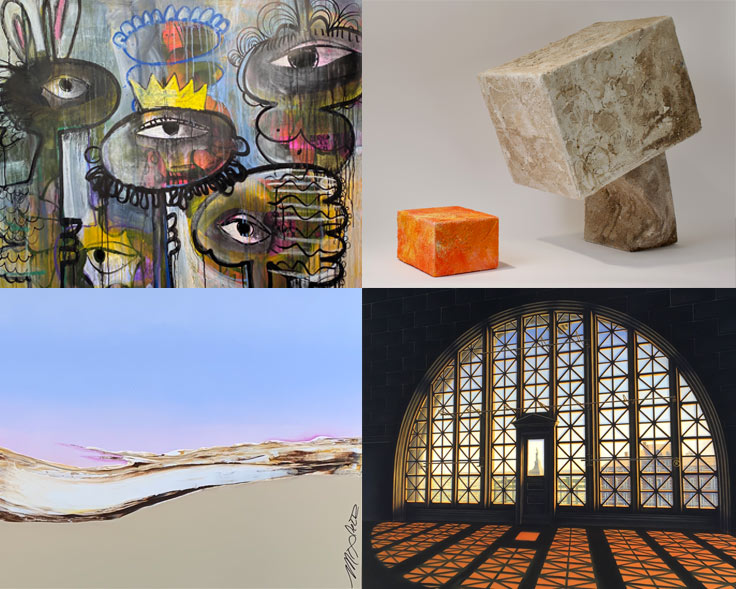 October 15, 2020 – January 10, 2021
The Heckscher Museum of Art is pleased to present the Long Island Biennial, a juried exhibition featuring work by 52 visual artists from Suffolk and Nassau Counties. The Long Island Biennial offers Long Island's contemporary artists an opportunity to show their work to a broad public, deepening the connections between artists and the communities in which they live.
Inaugurated in 2010, this 10-year anniversary of the Long Island Biennial coincides with The Heckscher Museum's centennial. In honor of this milestone, this year's Biennial has been expanded to fill all four Museum galleries.
This year's exhibition was juried by Erin Kimmel, Art Writer and Ph.D. candidate in Art History at Stony Brook University; Heidi Lange, Director of DC Moore Gallery, New York City; and Paton Miller, Artist/Curator.
Sponsored by Pien and Hans Bosch
Artwork (clockwise from top left): Deborah Buck, Waiting Room, 2020 [detail], Acrylic, pastel, and ink on paper; Mark Van Wagner, Orange Pond, 2019, Natural and pigmented sand, polymer glues on recycled cardboard box; Glen Hansen, Liberty, 2019 [detail], Oil on panel; Martha Mcaleer-Morselli, Accabonac Harbor, 2019 [detail], Acrylic.
Related Events
The Museum is pleased to host a number of events (both virtually and in person) in coordination with the Long Island Biennial 2020 exhibition. Featured artists will bring their unique insight and expertise to each event, bringing the Museum to life for our visitors!
See full calendar of LI Biennial related events below!
-

-

-

-

-

-

-

-

-

-

-

-

-

-

-

-

-

-

-

-

-
-

-

-

-

-

-

-

-

-

-

-

-

-

-

-

-

-

-

-

-

-
You have no events for this day
You have no events for this month
You have no events for this month
stec_replace_image
stec_replace_icon
stec_replace_summary
stec_replace_desc_short
Expired
In Progress
stec_replace_location
stec_replace_timespan
Invited
stec_replace_guest_name
stec_replace_product_name
stec_replace_location
stec_replace_date
RSVP to Event
Event Info

Location

Schedule

Guests

Attendance

Forecast

Comments
stec_replace_description
stec_replace_title

Organizer of stec_replace_event

stec_replace_about
0

days

0

hours

0

minutes

0

seconds
Event expired
Event is in progress
Location
stec_replace_location
Get Directions
Could not find route!
Details
stec_replace_details
No schedule
stec_replace_date stec_replace_time
You are invited to this event!
Places left: 0
stec_replace_name

stec_replace_people
Weather data is currently not available for this location
Weather Report
Today stec_replace_today_date
stec_replace_current_summary_text
stec_replace_current_temp °stec_replace_current_temp_units
Wind stec_replace_current_wind stec_replace_current_wind_units stec_replace_current_wind_direction
Humidity stec_replace_current_humidity %
Feels like stec_replace_current_feels_like °stec_replace_current_temp_units
Forecast
stec_replace_date
stec_replace_icon_div
stec_replace_min / stec_replace_max °stec_replace_temp_units
stec_replace_5days
Powered by Forecast.io