DOVE/TORR COTTAGE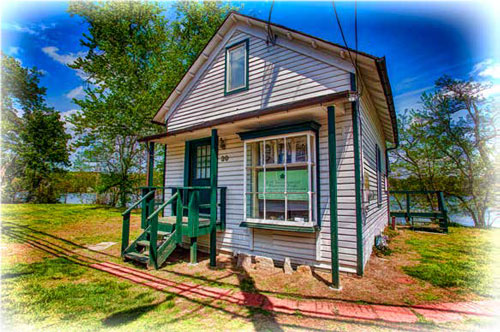 The renowned American modernist Arthur Dove lived in Huntington with his wife, the artist Helen Torr, from 1924 to 1946. For many of these years, they lived aboard their 42-foot yawl in Huntington harbor. In 1938, they purchased a cottage on the banks of Titus Mill Pond in Centerport, just three miles from The Heckscher Museum of Art, where they lived for the rest of their lives.
In late 1998, The Heckscher Museum of Art acquired the Dove/Torr Cottage with the generous assistance of the Times-Mirror Corporation and the New York Department of Parks, Recreation and Historic Preservation. In 2000, the Dove/Torr Cottage was one of only 20 historic artists' homes and studios nationwide to be accepted into the Historic Artists' Homes and Studios Program, administered by the National Trust for Historic Preservation and supported by a grant from the Henry Luce Foundation, and in January 2002 the Cottage was named to Save America's Treasures, a White House Millennium Council initiative focused on "protecting America's threatened cultural treasures." National Trust funding and private contributions, including a generous grant from The Stebbins Fund, has allowed the Heckscher to document and trace the evolution of the building from its earliest use (c. 1880-90) as a post office and general store to its later adaptation as the private residence of Arthur Dove and Helen Torr. Fundraising continues.
In addition to the Cottage, The Heckscher Museum Permanent Collection includes important gifts received from the estates of both artists: Dove's personal art library, with books containing color studies and hand-written notes; his paints, painting materials, powdered pigments, and palette; examples of early and late work; and a group of more than 30 sketches and color studies by Torr.
When the preservation project is completed, Dove/Torr Cottage will be used for educational programs that take advantage of the scenic setting of the Cottage, which is one of its most important attributes, having inspired Arthur Dove to paint some of his most important works of art. The interior of the building will be restored to its appearance when occupied by Dove and Torr and will be available for viewing by scholars, artists, and others interested in their lives and work. Because of the scarcity of parking, access to the Cottage will be by invitation and appointment only.
Celebrating the site, Dr. Charles Eldredge, former director of the Smithsonian American Art Museum, wrote, "I can think of few properties with as singular an importance for the rich history of modern art in America."
Dove/Torr Cottage is a member of the Historic Artists' Homes and Studios program (HAHS) of the National Trust for Historic Preservation. HAHS is a national consortium of more than 30 museums that were formerly the homes and working studios of American artists.