Adopt a Work of Art: The Deborah Buck Foundation and Andrea and Neil Kreinik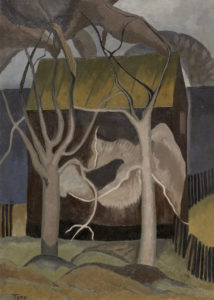 The work of artist Helen Torr inspired donors to conserve two works currently on view in  The Heckscher Museum Celebrates 100.
Artist Deborah Buck's Foundation is focused on supporting women in the fine arts. She found a natural fit in contributing to the Adopt a Work of Art Program to conserve Helen Torr's January,  "I want to actively support organizations that are bringing women artists out of the shadows and are doing their part to support women. Torr is a classic example.  She deserves to be remembered and celebrated right alongside [her husband] Arthur Dove," said Buck. To ready January for exhibition, a conservator removed grime from the surface of the painting and retouched missing pigments along the edges of the canvas. The historic frame, in poor condition, was stabilized and cleaned.
Andrea and Neil Kreinik adopted Helen Torr's From Piano in honor of Andrea's late mother, Lillian R. Schwartz.  "The work really struck me. The painting shows the heart and soul of a piano and reminded me of my mom, who was a classical pianist and played even at 107," said Andrea Kreinik.  "As members of The Heckscher Museum, we feel like part of the family.  We are aware of many pieces in the collection that are in need of conservation before they can be exhibited. Now, this artwork can be shared and enjoyed in the exhibition."
A complete list of works available for conservation can be found at heckschercollection.org under the Adopt a Work tab. A donation is tax deductible. To adopt a work of art, please contact Deborah Johnson, Deputy Director & Director of Development, 631.380.3229 ext. 708 or Johnson@Heckscher.org.
<