ANNUAL PORTFOLIO DEVELOPMENT SERIES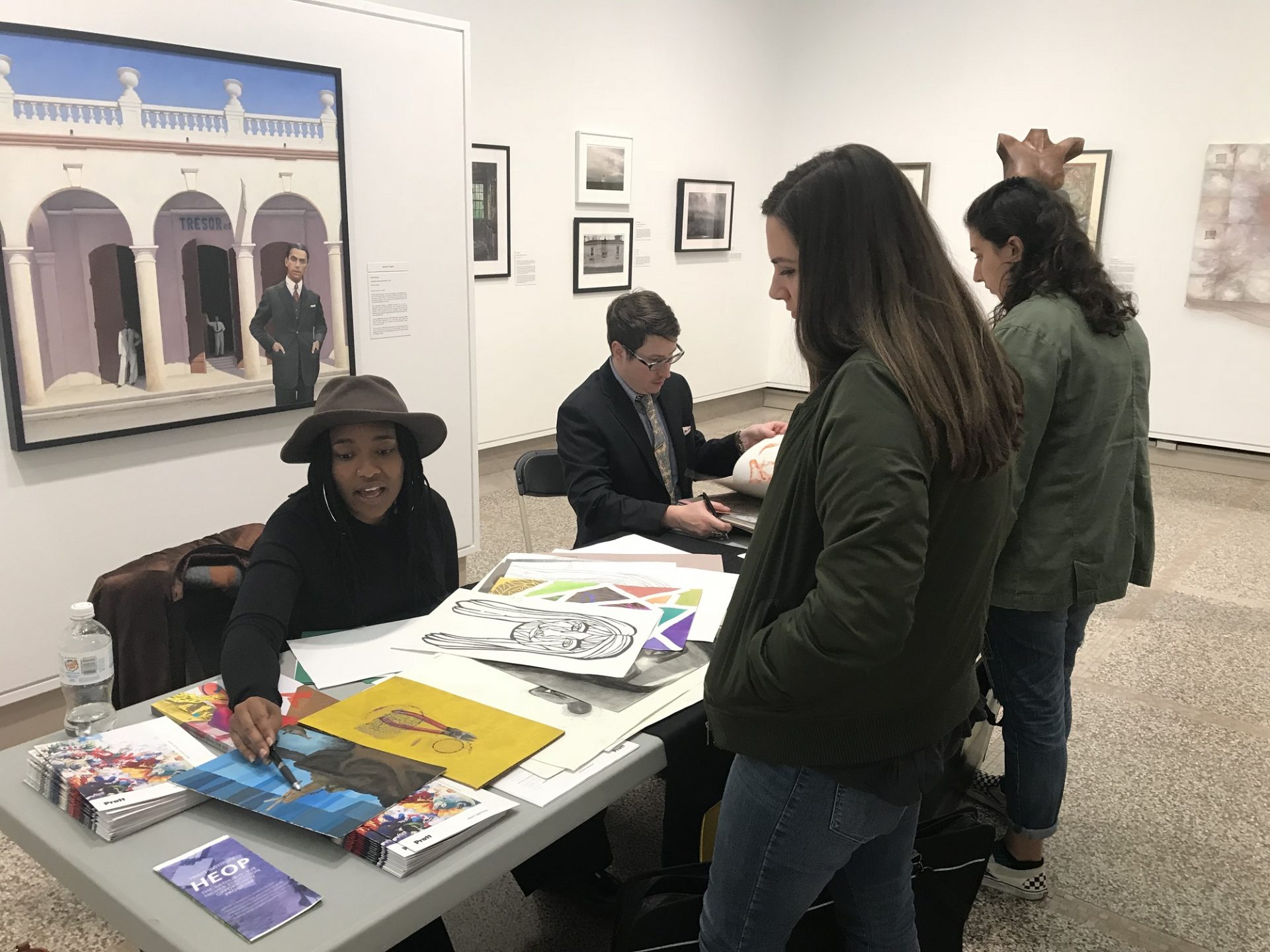 Each October, the Museum offers this FREE series for high school students preparing for the college admissions process. Gain insight and receive invaluable feedback from admission counselors! Students are invited to attend one or more sessions.
Unfortunately, in order to ensure everyone's safety, the Museum is unable to host these in-person events for Fall 2020.
As an alternate resource, we have compiled a Portfolio & Admissions Directory with information from 15 colleges and universities whose admissions staff have reviewed student portfolios and provided feedback at past events.
We hope that students, parents, and teachers find this resource helpful as they embark on the college admissions process. We wish all students applying to art programs the best of luck and hope to bring our in-person series back next year!
College Portfolio & Admissions Directory 2020-2021
Adelphi University
General information about art portfolio requirements:
https://www.adelphi.edu/program/undergraduate/art/portfolio/
Virtual Art Portfolio Review Days: adelphi.edu/portfolio-review
Virtual Fall Open House: adelphi.edu/fallOH
Contacts: Danielle Khoury, dkhoury@adelphi.edu & Stephanie Espina, sespina@adelphi.edu
Boston University School of Visual Arts
Portfolio guidelines and requirements, link to online portfolio submissions
https://www.bu.edu/cfa/admissions/school-of-theatre/undergraduate/reviews/portfolio
Contact: Jessica Caccamo, jcaccamo@bu.edu
California College of the Arts
General information: cca.edu/info
Book a Portfolio Review: https://ccaundergraduateadmissionsappointments.youcanbook.me/
Take a Virtual Tour: https://www.youvisit.com/tour/cca/cca?tourid=tour1_10_10_18_35369
Contact: Columbia Shafer, columbiashafer@cca.edu

Hartford Art School, University of Hartford
Portfolio guidelines and requirements, link to online portfolio submissions:
https://www.hartford.edu/academics/schools-colleges/art/admission/portfolio-review.aspx
Contact: Ash​ley Berube, aberube@hartford.edu

Maine College of Art
General admission info, NPD dates: https://www.meca.edu/admissions/visit-meca
Virtual Campus Tour: https://vimeo.com/405138608
Departmental Videos: https://www.meca.edu/video-series
Contact: Aeron Metzger, aeron.metzger-staff@meca.edu

Maryland Institute College of Art
Portfolio guidelines and requirements, link to online portfolio submissions:
https://www.mica.edu/graduate-programs/community-arts-mfa/application-procedures
Contact: Matthew Smith, msmith@mica.edu

Massachusetts College of Art and Design
Connect with a Counselor: https://admissions.massart.edu/register/onlinePR
Contact: Lauren Wilshusen, lwilshusen@massart.edu
Montserrat College of Art
Portfolio guidelines and requirements, link to online portfolio submissions:
https://www.montserrat.edu/admissions/how-to-apply/application-checklist
Contact: Jeffrey Newell, jeffrey.newell@montserrat.edu

New York Institute of Technology
NYIT's Digital Art and Design Department: https://www.nyit.edu/departments/digital_art_and_design
Portfolio guidelines and requirements, link to online portfolio submissions:
https://www.nyit.edu/arts_and_sciences/graphic_design_bfa_admissions
Contact: Joseph Vasikauskas, jvasikau@nyit.edu

Pennsylvania Academy of the Fine Arts
Portfolio guidelines and requirements, link to online portfolio submissions:
https://www.pafa.org/school/admissions/portfolio-reviews
Contact: Melanie Delach, melaniedelach@gmail.com

Pratt Institute
Schedule a one-on-one appointment and learn about virtual options this year:
http://www.pratt.edu/visit
Contact: admissions@pratt.edu

Rhode Island School of Design
Online information sessions with a counselor:
https://www.risd.edu/admissions/first-year/online-info-sessions
Contact: admissions@risd.edu

School of the Museum of Fine Arts at Tufts University
Details and registration links: https://smfa.tufts.edu/admissions-aid/visit-connect
Contact: SMFAadmissions@tufts.edu
St. John's University
General information regarding programs:
https://www.stjohns.edu/academics/programs/fine-arts-bachelor-fine-arts
SlideRoom to submit portfolio: https://sju.slideroom.com
Contact: Professor Belenna M. Lauto, lautob@stjohns.edu

School of Visual Arts
Virtual tours and events throughout the fall, students can RSVP: http://sva.edu/visit
Students should get in touch with the Admissions Counselor for their major at: http://sva.edu/counselors
Contact: Jon Nutting, jnutting@sva.edu