Girl's Inc. Camp Contributes to Upcoming Projects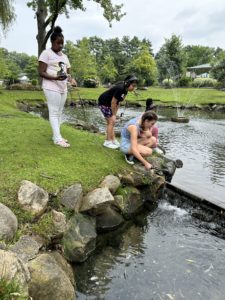 The celebration of the 25th anniversary of the historic Dove/Torr Cottage, Centerport, NY, is also a time of renewal for The Heckscher Museum property with two engaging community projects bringing new excitement to the site this fall. Long Island Biennial artist and sculptor, Susan Buroker, and accomplished sound engineer, Evangeline Knell are leading projects inspired by artist Helen Torr, and exploring how the natural world around Torr impacted her life and art on Long Island.
This project was made possible  by the Dorothy C. Radgowski Learning Through Women's Achievement in the Arts Grant,  a joint effort of Where Women Made History (WWMH), and Historic Artists' Homes & Studios (HAHS), both programs of the National Trust for Historic Preservation.
The work began with a week-long "camp" with middle-school students from Girl's Inc. who learned about Helen Torr and the local ecosystem of the Dove/Torr Cottage.  Students engaged in a variety of art, science, and technology activities including conducting water sample experiments, capturing the sounds of nature, creating mini sculptures, and contributing to a larger sculpture.  "It's amazing how quickly students adapted to new technologies, especially podcasting and sound sampling," said Knell. "I can't wait for visitors and to explore both Heckscher Park and Dove/Torr in an innovative way."
The project will culminate in two new outdoor soundwalks for the public – one at the Dove/Torr Cottage and the other at Heckscher Park in Huntington. These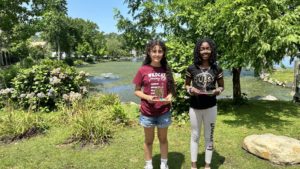 Soundwalk experiences will feature the voices of the participating students sharing what they learned about Helen Torr, her home, the natural world, and more.  In addition, the student's designs will be incorporated in the large-scale kinetic sculpture by Buroker.
The renowned American modernists Helen Torr and Arthur Dove lived in Huntington from 1924 to 1946. For many of these years, they lived aboard their 42-foot yawl, Mona, in Huntington harbor. In 1938, they purchased a cottage on the banks of Titus Mill Pond in Centerport, just three miles from The Heckscher Museum of Art, where they lived for the rest of their lives. The Heckscher Museum acquired the property in 1998. It is part of Historic Artists' Homes and Studios, administered by the National Trust for Historic Preservation, and part of Artists' Sites of Long Island, an initiative of the Robert David Lion Gardiner Foundation.
This project coincides with the exhibition Salt Life: Arthur Dove and Helen Torr, opening November 18.