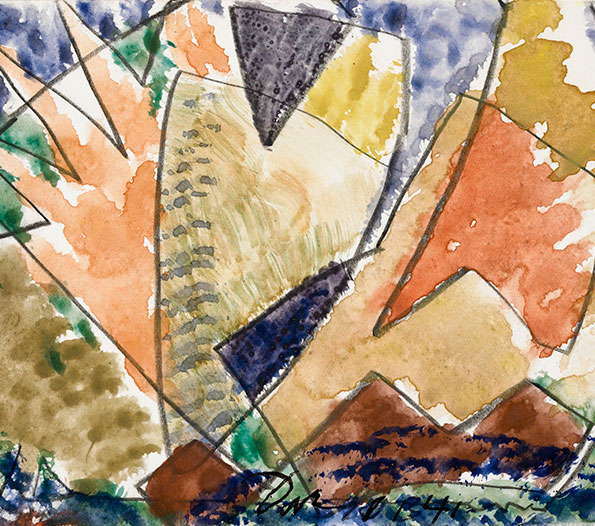 The Heckscher Museum is fortunate to hold an extraordinary number of masterpieces and archival materials by the renowned Huntington artist Arthur G. Dove.  Now, these important artworks and historical objects are in serious need of conservation
The Heckscher Museum Celebrates 100 will showcase paintings and drawings by Dove as well as art materials he used.  These objects provide a fascinating  view into Dove's  creative process and are important artistic and historical artifacts. The goal is to protect and preserve Dove's art and objects for exhibition and ensure this significant holding will be enjoyed by Museum goers in future years.
Conservation for the Arthur Dove Archive has three components:
Dove Watercolors:  Ten important Dove watercolors need conservation glass.  Over time, exposure to indoor and outdoor UV light rays can contribute to fading and deterioration of art. Museum conservation glass would replace the regular glass currently in frames.  Conservation glass effectively blocks UV light rays to protect against fading and helps keep framed pieces brighter, longer.
Arthur Dove Creative Objects:  Actual materials used by Dove are a special part of the Collection.  Well-used brushes, tubes of paint, and colorful jars of pure pigment from Dove's studio require conservation and study. Once conserved, the objects would ultimately be housed in protective casing at the Dove/Torr Cottage in Centerport.
Arthur Dove Art Library: The Museum has a number of art books owned by Arthur Dove.  They have underlined sections, and notes in the margin in Dove's own writing. The books speak to his techniques, especially his color choices. Written color formulas and experimental daubs of paint within these books are archival treasures.
Care and preservation of the collection is one of the principal responsibilities of a museum.  The Adopt a Work program offers a unique opportunity for supporters to become proud "parents" to some of the Museum's most important treasures, benefiting the Museum, the sponsor, and generations to come.
A complete list of works available for conservation can be found at heckschercollection.org under the Adopt a Work tab. A donation is tax deductible.
To Adopt a Work,  please contact Deborah Johnson, Deputy Director & Director of Development, 631.351.3006 or Johnson@Heckscher.org