Youth Ambassador Program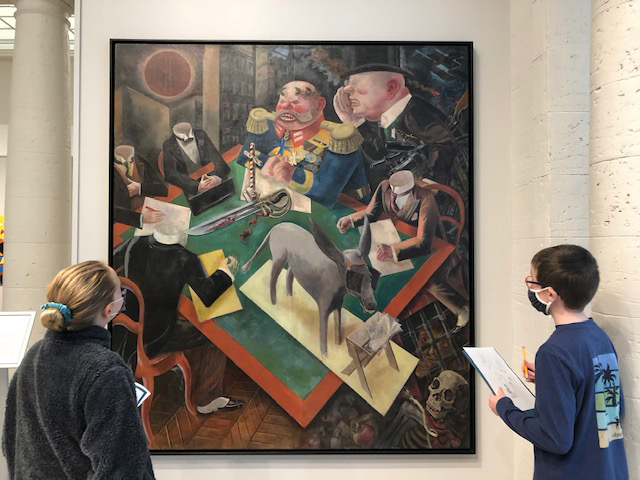 Tweens and teens interested in art are invited to join this unique program led by Museum Educator Tami Wood! Make new friends and learn about artwork on view as you enjoy a special behind-the-scenes look at how a museum operates and communicates with its visitors.
Students will participate in four projects each year, designed to develop art interpretation, public speaking, and writing skills. Youth Ambassadors have led tours at public events, created video content for Heckscher.org, written articles for Family Activity Guides, and conducted interviews with staff. Projects are both virtual and in-person, following the Museum's Health and Safety Guidelines.
Open to students in 5th through 9th grade
$25 per project
Apply today using the form below! Application is rolling.
"I like the Heckscher Youth Ambassador Program because we get to dig deeper into the art and we get the opportunity to work on our leadership, teamwork, public speaking, and art skills."
– Sylvie Schneider
Program Highlights
Career Paths in the Arts
Did you ever wonder about what it would be like to work at an art museum? Our Youth Ambassadors certainly did! The group began 2021 ready to learn about new and exciting career paths. Youth Ambassadors began by interviewing the Museum's Curator, Karli Wurzelbacher, and Exhibition Manager/Registrar, Kerrilyn Blee. Throughout the year, they will interview other Heckscher staff, learning just how many interesting new careers there are to study! Watch each video and find out what our Youth Ambassadors have learned!
Long Island's Best Artwork Interpretation
In 2020, students had the opportunity to create their own videos discussing their favorite artwork from the high school juried exhibition Long Island's Best: Young Artists at The Heckscher Museum 2020.
"These Youth Ambassadors led live Museum tours in the past, but adapted easily to working virtually!" said Educator Tami Wood.