Saturday, October 7  &  Sunday, October 8
Beginning at dusk (approx. 7 pm)
Full light show begins at 8 pm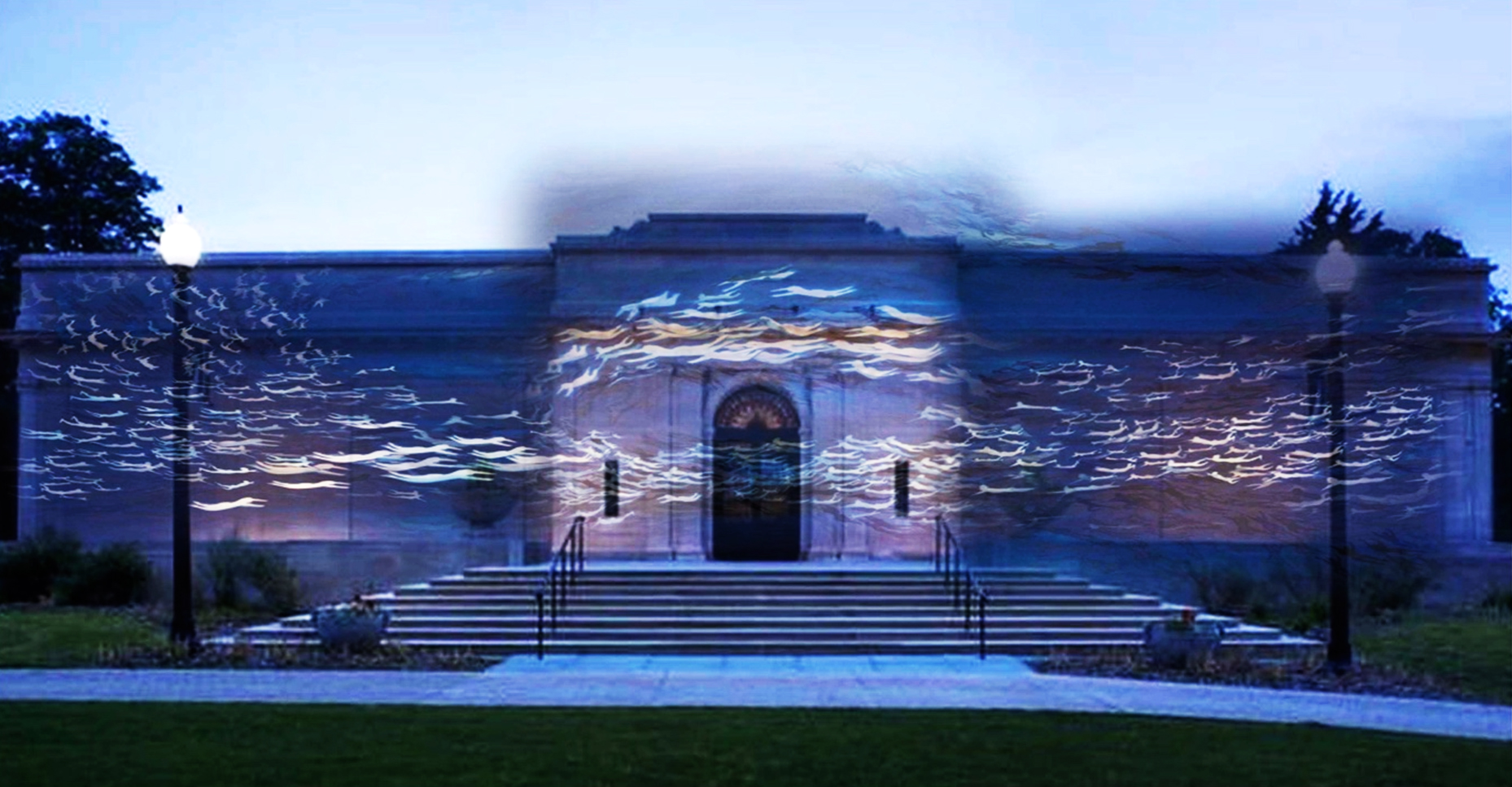 A dynamic multimedia display of art, light, and sound, sure to delight and engage all audiences, Illuminations 2023, will be projected onto The Heckscher Museum of Art's façade during two evenings of the annual Long Island Fall Festival at Heckscher Park.
Illuminations 2023: The Many Faces of Home includes a custom-made collection of dynamic, short, digital art animations, which will be projected onto the façade of the Museum building and choreographed to music the evenings of October 7th and 8th. This socially engaged and collaborative visual art installation has been specifically created for the Museum by a team of international digital artists working with the Museum's Executive Director Heather Arnet, and visual artist Han Qin, a digital artist and printmaker based on Long Island, and Hangzhou, China. Qin, an adjunct professor at Stony Brook University, has artwork included in the permanent collection of the Museum, and which was featured in the Viewfinders photography exhibition earlier this year.
The projected art installation includes three acts. The first, My New Home created by Han Qin, portraying, and celebrating the immigration experience, is a 3D image projection featuring glowing portraits of diverse community members who have immigrated to Huntington and made it their home. The second piece, also by Qin, Journey Home is an animated film projection, showcasing ocean hues of blue and a school of fish transfiguring before the eyes into groups of people swimming to a new home, a beautiful, captivating portrait of the journey to a new land, a new island home…Long Island. Culminating with the Grand Finale – a custom-made collection of dynamic, short, animation pieces choreographed to music. The digital art pieces included in the finale were created by several international digital artists and curated by award winning New York based artist and curator Chiarina Chen. Original music for Illuminations 2023 composed by Internationally recognized composer and cellist, Professor Margaret Schedel, Co-Director of Stony Brook University's Computer Music Department.
Illuminations 2023 Sponsored by The Huntington Chamber of Commerce, with additional support provided by the Town of Huntington.