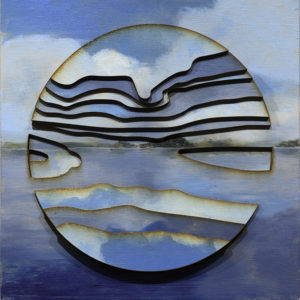 The Heckscher Museum has announced the line up of 2022 Emerging Artists! The Emerging Artists Series celebrates contemporary artists through virtual "takeovers" of  the Museum's Instagram account @heckschermuseum.  This year, the program has 24 talented artists from around the country and around the world. Congratulations to all the artists!
The "takeover" gives artists a platform to show their work, share stories, explain their process, answer questions, and  much more!
First up: Dorian Vallejo (January 12) and Winn Rea (January 26). Vallejo "is fascinated by the process of individuation and its potential for archetypal expression." His paintings and drawings often suggest a symbolic narrative. Rea's wall reliefs, works on paper, ephemeral sculpture and video installations are grounded in her time spent in the Adirondack Mountains. Her passion for the environment has led her on a journey exploring the history of soil, the impact of civilizations, and our potential to remember again, our place in the rhythms of the natural world.
2021 Emerging Artists
Mary Ahern
Andrew Arkell
Ron Becker
Sally Bowring
Christine D'Addario
Jeremy Grand
RJT Haynes
Heidi Howard
Holly Hunt
Ellen Star Lyon
John Lynch
Carolyn Monastra
Helen Murdock-Prep
Frank Musto
Brian Ortmann
Winn Rea
Mallory Shotwell
Joan Kim Suzuki
Mary Jane Tenerelli
Toxic/Nature Studios
Dorian Vallejo
Mark Van Wagner
Judith Kaufman Weiner
Despina Zografos