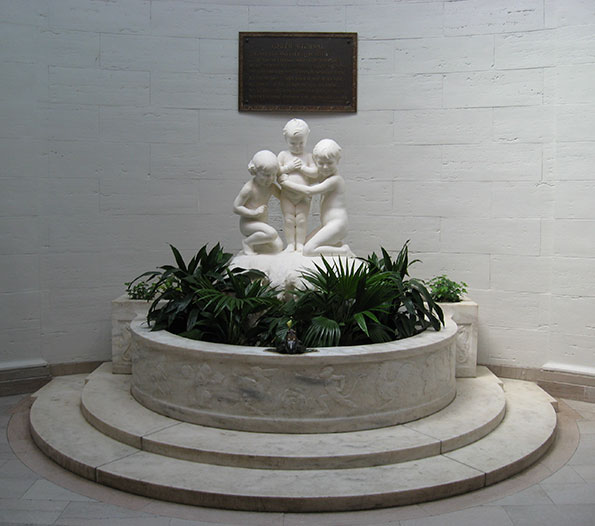 Youth Eternal by Evelyn Beatrice Longman has the distinction of being the artwork on longest continuous view in The Heckscher Museum.  The fountain takes center stage in the Museum lobby, and has a history closely aligned to the Museum's founding, and a connection to an iconic American sculpture.
Youth Eternal was commissioned by founder August Heckscher and originally intended to be set in an alcove at the end of a sculpture hall. The figures are modeled after Heckscher's grandchildren, Lionel, Virginia, and Nancy, the children of his daughter Antoinette and her husband Oliver Brett, Viscount Esher. The purity of line that characterizes Longman's work is seen in the bas-reliefs surrounding the drum of the basin.
Longman was the first sculptor to achieve full membership at the prestigious National Academy of Design and the only woman taken on as a studio assistant by Daniel Chester French, sculptor of the Lincoln Memorial. (The Museum holds the second of nine replicas of French's sculpture.)  The National Parks department confirms that Longman completed all of the interior decorative carvings surrounding the Gettysburg Address and the Second Inaugural Address in the Lincoln Memorial.
Longman received her early sculpture training with Lorado Taft at the Art Institute of Chicago. She executed work for the 1901, 1904, and 1915 World's Fairs and received many serious commissions for monuments, doors, and friezes throughout her career. Her figure The Genius of Electricity topped the dome on the original AT&T building in New York City and is now located in its lobby.