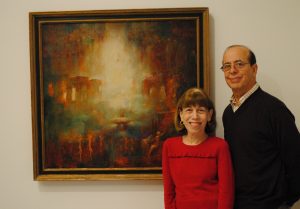 One of the principal responsibilities of a museum is the care and preservation of its permanent collection. Even in the best of circumstances, objects age. Exposure to light and atmospheric debris discolors and damages fragile painting, sculpture, and paper surfaces. Over time, materials can physically change, sometimes adversely affecting an object's condition. In some circumstances, affected works cannot be exhibited.
To augment The Heckscher Museum's commitment to care for its collection, the Museum offers an "adoption" program focusing on works requiring conservation. For the cost of conservation, this program offers a unique opportunity to become a proud "parent" to some of the Museum's most important treasures, benefiting both the Museum and the sponsor.
Once an adopted work is conserved, the sponsor's name is forever associated with the object, and recognition will be recorded in the object's credit line in our database and when on display.
The conservation gift is tax deductible, and your generosity will be enjoyed by generations to come.
In celebration of The Heckscher Museum's centennial anniversary in 2020, two museum-wide exhibitions will highlight iconic masterworks and Long Island artists in the permanent collection. Many of the artworks available for adoption are scheduled for inclusion in these exhibits, but have conservation and framing needs that must be addressed. Please help us conserve them in commemoration of this milestone in the Museum's history!