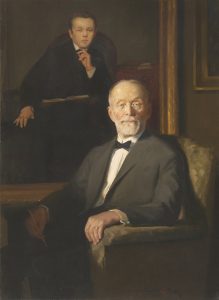 August Heckscher (1848-1941) was born in Hamburg, Germany, and immigrated to the United States at age 19. He made his fortune in coal, zinc, copper, and real estate. The New York Times described him as "one of the largest holders of real estate in [Manhattan's] Fifth Avenue zone." In 1898, he and his wife Anna purchased a summer retreat in rural Huntington, joining other wealthy Americans with homes on the North Shore of Long Island.
The millionaire businessman was a generous philanthropist, especially for social issues and children's causes. In 1906, he purchased land at the site of a former thimble factory previously owned by Ezra Prime and immediately found ways to use it for the public good. The property housed classrooms for Huntington children, and served as part of the Fresh Air Fund which provided underprivileged city girls a two-week stay in the country. Skaters and swimmers enjoyed the adjacent pond, and Mr. Heckscher wanted ice cut from the pond for distribution to the "poor of the Town of Huntington."
August Heckscher had an even grander plan for the Prime property. He deeded the land to the Town of Huntington in 1917, envisioning a magnificent 18.5-acre park and museum to be the center of the community's recreational, cultural, and social life.
Mr. Heckscher chose Julius Franke of the New York City firm Maynicke and Franke as the Museum's architect. The Heckscher Fine Arts Building, as it was then called, was dedicated at a festive community celebration on July 10, 1920.
According to The Long Islander, the 35-piece Seventy-First Regimental Band played a concert, fireworks lit the pond, and an American flag and "Heckscher Park" streamer dropped from the sky. The children were treated to "ice cream, cake, and orangeade," while adults toured the Museum. August Heckscher donated 185 works of art from his private collection to the Museum. In his dedication speech, Heckscher stated that Huntington was to be "one of the few places in the United States outside of the large cities [that] possess galleries of such extent and importance." He intended this gift to be "especially for the children."
When August Heckscher died in 1941, The Long Islander called him "perhaps the finest benefactor that Huntington ever had." His vision lives on in the cultural and educational work of the Museum.