The Heckscher Museum of Art shares work from its Collection with institutions across the country and around the world. This summer, seven of our artworks are on view close to home, in the Long Island Museum's exhibition Two Centuries of Long Island Women Artists, 1800-2000. Betty Parsons's (1900-1982) Tugboat is one of the sculptures featured in the show, which is on view through September 4, 2022.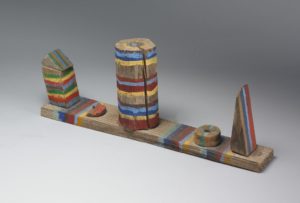 Tugboat is a characteristic example of Parsons's "constructions," which she began creating in the 1960s from distressed wood that she found on the beach near her home in Southold, Long Island. Bypassing natural driftwood, she gravitated to fragments of manmade objects that had found their way into the Long Island Sound as the East End became increasingly developed. Parsons was interested in the history of these "carpenter's throwaways," and she left old chips, cracks, and paint markings visible when transforming the material into abstract sculpture. 
In addition to her paintings and sculptures, Parsons was a pivotal art dealer who championed modern art from the 1940s until her death in 1982. The Betty Parsons Gallery showcased artists including Forrest Bess, Sari Dienes, Perle Fine, Barnett Newman, Jackson Pollock, Robert Rauschenberg, Mark Rothko, Ethel Schwabacher, Sonja Sekula, Hedda Sterne, and Clyfford Still.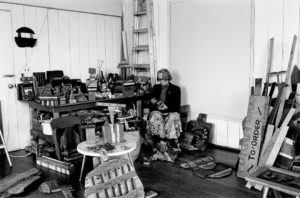 See images of Parsons's Southold Studio, which was designed by sculptor Tony Smith in 1960.
View other artwork related to Betty Parsons in The Heckscher Museum's Collection.