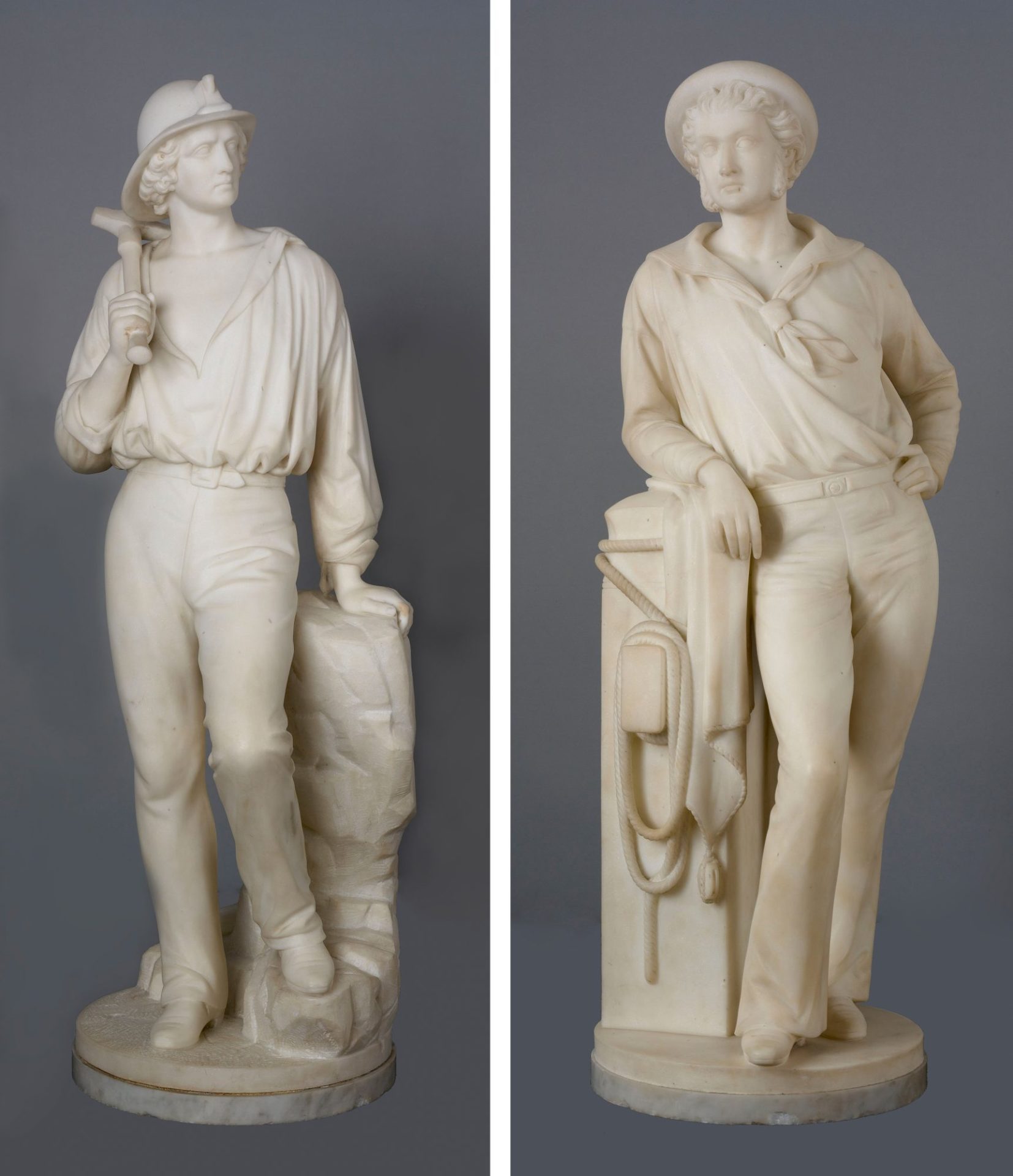 She finally resolved on an exclusive consecration of her talents to art, making it the sole business of her life. She determined to go to Rome … It is probably in the difficult art of sculpture that she will leave to America the works by which she will be most widely known. – Elizabeth Fries Ellet on Emma Stebbins, 1859
In 1860, American sculptor Emma Stebbins (1815-1882), who was working in Italy, completed two marble figures representing contemporary subjects in the style of classical sculpture. Created for the uncle of Museum founder August Heckscher, the rare sculptural pair will be on view in the 2021 exhibition The Heckscher Museum Celebrates 100: Tracing History, Inspiring the Future.  
Industry, which is personified by a miner, and Commerce, which depicts a sailor, are emblematic of Charles August Heckscher's immensely successful business interests. After immigrating to the United States in 1829, he established an international trading house in lower Manhattan that thrived on oceanic shipping. He later founded a company that mined and transported Pennsylvania coal. Standing about two feet tall, the domestically scaled sculptures he commissioned from Stebbins may have originally graced his mansion in Manhattan or his estate in Orange, NJ.  
As scholar Melissa L. Gustin has recently demonstrated, Stebbins modeled her work on two ancient marble sculptures that she viewed in Rome: the Spear-Bearer and the Resting Satyr in the Vatican Museum's Braccio Nuovo. The miner in Industry adopts the pose of the nude Spear-Bearer but wears an open collar, rolled shirtsleeves, and a brimmed hat with a lamp bracket. He bears a pickaxe rather than a spear. Stebbins's sailor also wears contemporary clothing, but his stance, elaborate curls, and the diagonal drapery of his shirt and neckerchief are those of the Resting Satyr. Gustin explains, "the classical references provide a veneer of culture, heroism, and elevation to the dangerous and dirty labor of the miner and sailor."¹
The educated and well-traveled viewers of Stebbins's work would have taken pleasure in recognizing her references to specific classical sculptures. Her neoclassical style, including the use of white marble, transformed working-class subjects into beautiful art objects. A critic who viewed Industry in Stebbins's studio in 1859 wrote: "The figure is that of an athletic, admirably proportioned youth … The symmetrical vigour of the figure, admirable as it is, is not more admirable than the lofty, ingenious beauty of the classic head and face … [yet] the spirit and air of it are purely modern and American. It is, in truth, one of the most felicitous combinations of every-day national truth with the enduring and cosmopolite truth of art ever seen, and it is a work which does equal credit to the sex and the country of the artist."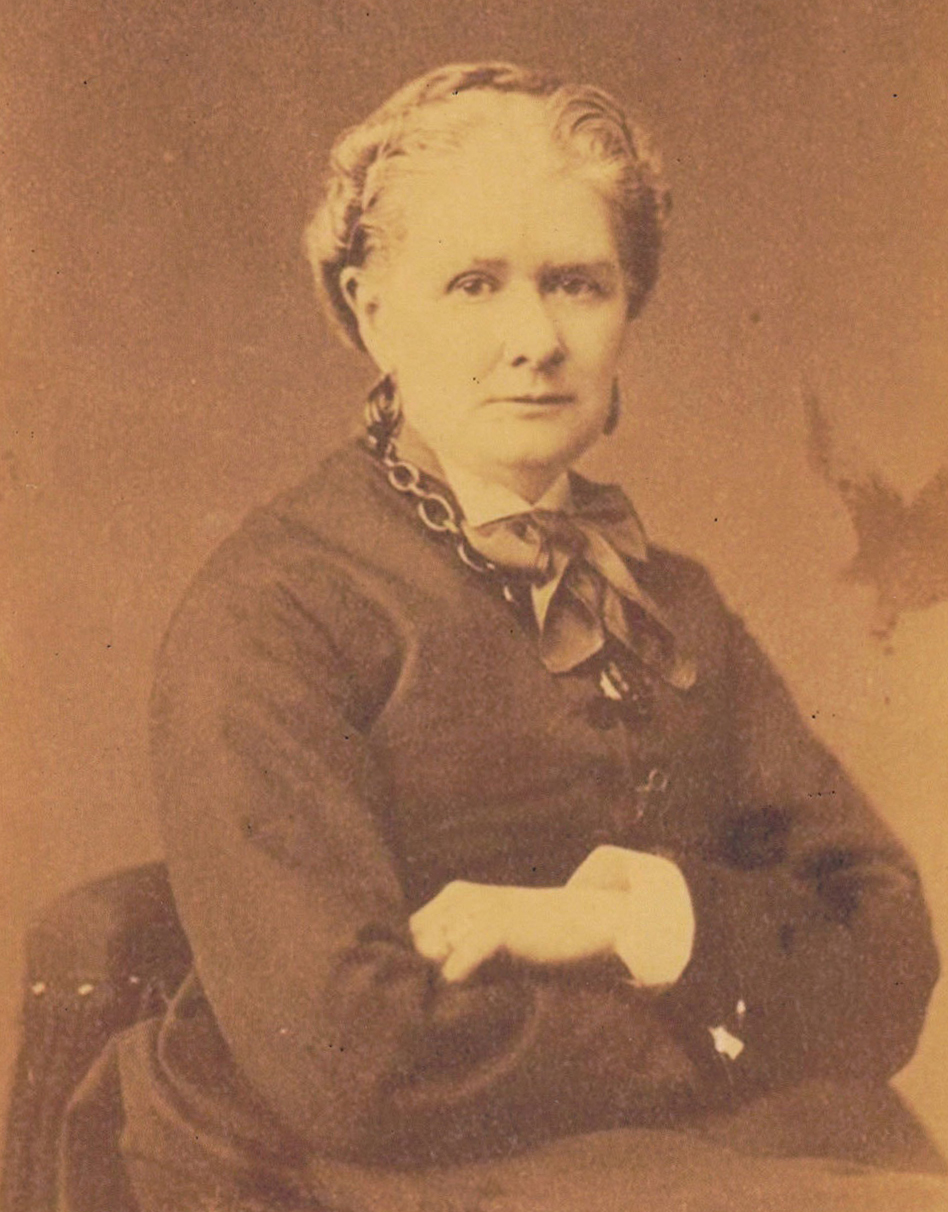 Industry and Commerce were two of Stebbins's earliest sculptures. She received the commission from Heckscher just one year after moving to Rome, at age 42, to pursue sculpture professionally. She stopped working twelve years later to care for her longtime romantic partner, the actress Charlotte Cushman, following her breast cancer diagnosis. Over the course of her career, Stebbins produced about a dozen works in marble and received commissions for public sculptures in bronze. Her most iconic work, Angel of the Waters at Bethesda Fountain in Central Park, was New York City's first public art commission awarded to a woman. 
Explore further:
Read the artist's recent obituary, part of the "Overlooked" project, in the New York Times. 
Browse the artist's digitized scrapbook, which contains images of her work and her pets! 
Take a virtual stroll through the Braccio Nuovo, where Stebbins found inspiration for her work. 
1 Melissa L. Gustin, "Culture Capitalism: Emma Stebbins' Allegories from the Braccio Nuovo of the Vatican," Nineteenth Century vol. 39, no. 2 (Fall 2019): 15.