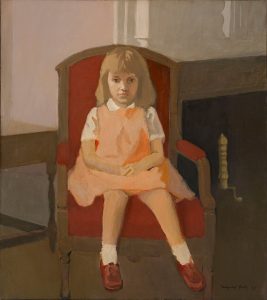 As the wholeness of life eludes control, so the wholeness of art eludes the control of the artist. The realist thinks he knows ahead of time what reality is, and the abstract artist what art is, but it is in its formality that realist art excels, and the best abstract art communicates an overwhelming sense of reality. — Fairfield Porter (1907–1975), ARTnews February 1966.
Elizabeth in a Red Chair (1961) reflects Fairfield Porter's abiding interest in painting his family in domestic settings. The matter-of-fact portrait depicts the youngest of his five children within their home at 49 South Main Street in Southampton. Elizabeth appears remarkably self-possessed, although her awkwardly dangling legs convey her youth. Her placid expression and distant gaze contribute to the sense that she is occupied with her own thoughts.
Porter's work muddles the distinctions between representation and abstraction. In Elizabeth in a Red Chair, broad strokes of thin paint constitute recognizable limbs and fabric. To capture the effects of light that he observed, Porter employed obvious patches of color (rather than careful gradations) to create the highlights and shadows on the figure's hair and clothing. The compressed planar space of the room is a study in muted browns and tans. The lines of the furniture and fireplace structure the composition, while the decorative curves of the table and chair legs, andiron, and mantle unify the quadrants of the painting.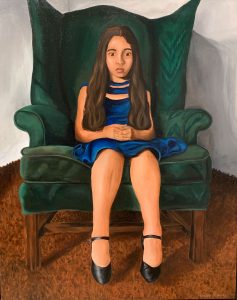 Porter was a student of art history and contemporary art. In 1938, he attended an exhibition of the French painters Pierre Bonnard and Édouard Vuillard at The Art Institute of Chicago. Seeing their work encouraged him to embrace his domestic surroundings as subject matter. Porter also cited an Abstract Expressionist painter as one of his greatest influences: "From Willem de Kooning I learned to look at a painting as an expression of paint rather than an expression of ideas." In 1951, Porter began reviewing exhibitions in New York City for ARTnews and found that his painting "renewed" his writing, and vice versa.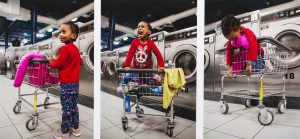 For the current exhibition Long Island's Best: Young Artists at The Heckscher Museum, two students took Elizabeth in a Red Chair as their inspiration. Micarlys Ramirez created a subdued and slightly mysterious portrait of her younger sister wearing an inscrutable expression and sinking into an oversized chair. Sophie Fischetti photographed her subject in a laundromat at odds with the comfortable setting of Porter's painting. The child in her work takes on a range of attitudes in quick succession. As we read the triptych from left to right, she moves from sweet, to spirited, to exhausted. Intrigued by Porter's portrayal of Elizabeth, both Ramirez and Fischetti responded with art that explores the inner lives of children.   
Explore further: