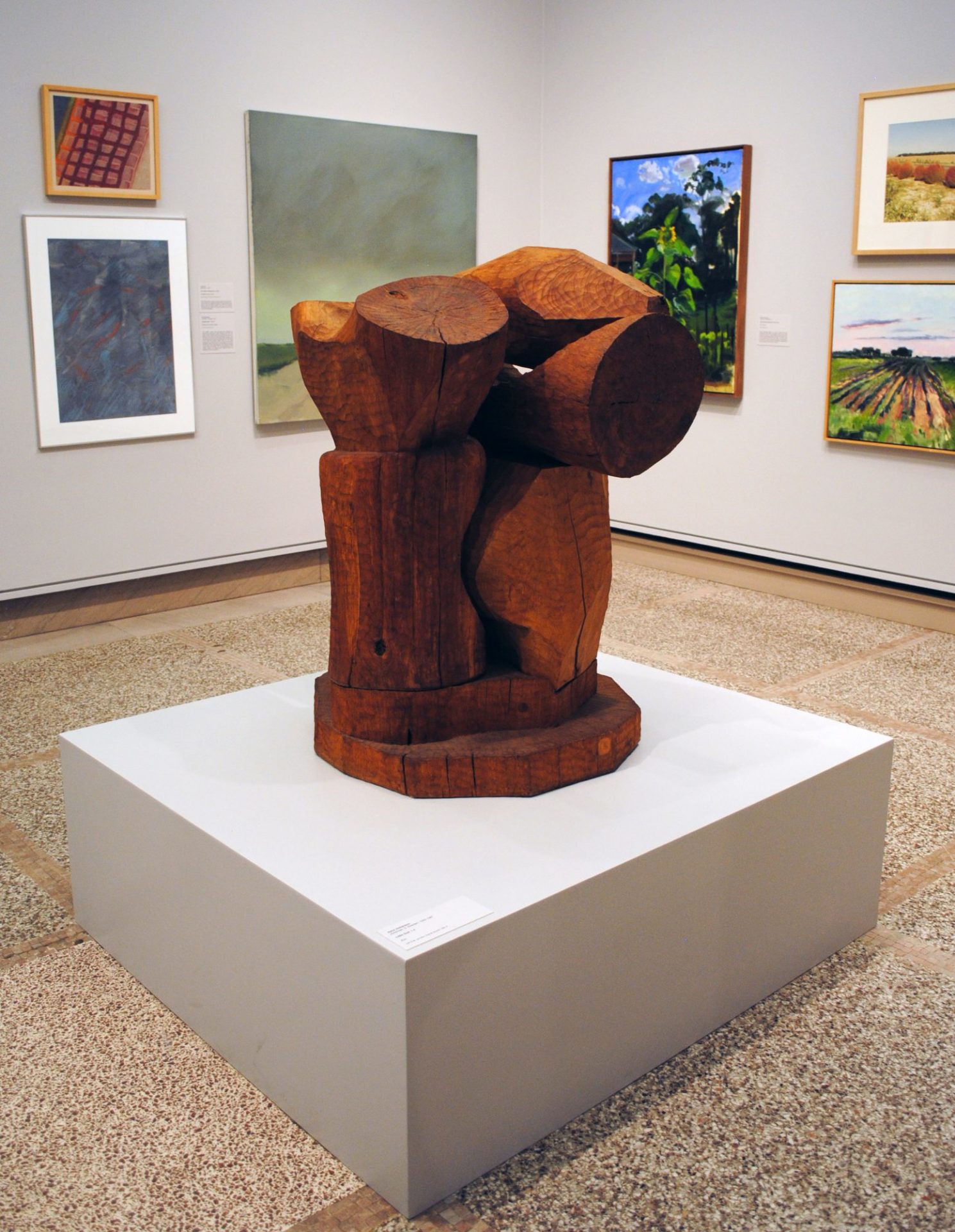 I am influenced by the volume and the availability of the wood … The wood itself kicks me off, encourages me, speaks back to me. I am in direct confrontation with the surface. –Hans Hokanson, Arts Magazine, 1977
Recently on view in Locally Sourced: Collecting Long Island Artists, the sculpture Little Gull (early 1960s) by Hans Hokanson (1925–1997) exemplifies the artist's fascination with nature and his experience with carpentry. After moving from the small fishing village of Malmo, Sweden, to New York City in 1956 to pursue painting at the Art Students League, Hokanson supported himself by working as an assistant and technician at the Museum of Primitive Art [now the Department of the Arts of Africa, Oceania, and the Americas at the Metropolitan Museum of Art]. He also "stretched canvases and built easels for the painter Mark Rothko" and performed carpentry work for artist Willem de Kooning in East Hampton.¹ Initially a means to support his painting endeavors, woodworking became Hokanson's passion as he honed his skills as a master cabinetmaker and furniture designer.²
Hokanson began creating wooden sculptures in 1961. His sculptural oeuvre can be divided into two categories: early works are composed of individually-carved components doweled and joined together, while his later pieces are carved from single pieces of wood. This shift in process coincided, in part, with his 1967 move to Northwest Creek, East Hampton, where he discovered raw material in the fallen elm and walnut trees on his property. In the early 1960s, his process involved making preliminary watercolor sketches before sculpting each work. Hokanson later merged the acts of drawing and sculpting by using a chainsaw to spontaneously carve out the general shape of a sculpture and then using hatchets and chisels to achieve the final form. Working in his outdoor studio with views of salt marshes, scrub oaks, inlets, and the bay, Hokanson was heavily influenced by his natural setting.³ His sculptures feature biomorphic and organic forms and textures, including ribbon-like helixes, corkscrews, and rippled surface patterning.
Little Gull embodies nature, evoking the seabird of the title and the marine environment that Hokanson inhabited. The unpainted surface reveals both the grain of the elm and the artist's expressionistic chisel marks. Like water or sand stirring in the wind, the dimpled wood appears to undulate or breathe. The sculpture seems to change as the viewer encircles it, revealing a different composition of forms with each new perspective. Constructed of seven interconnected elements, the work demonstrates a playful balance of curvilinear and geometric shapes in which bulging forms fill crescent voids.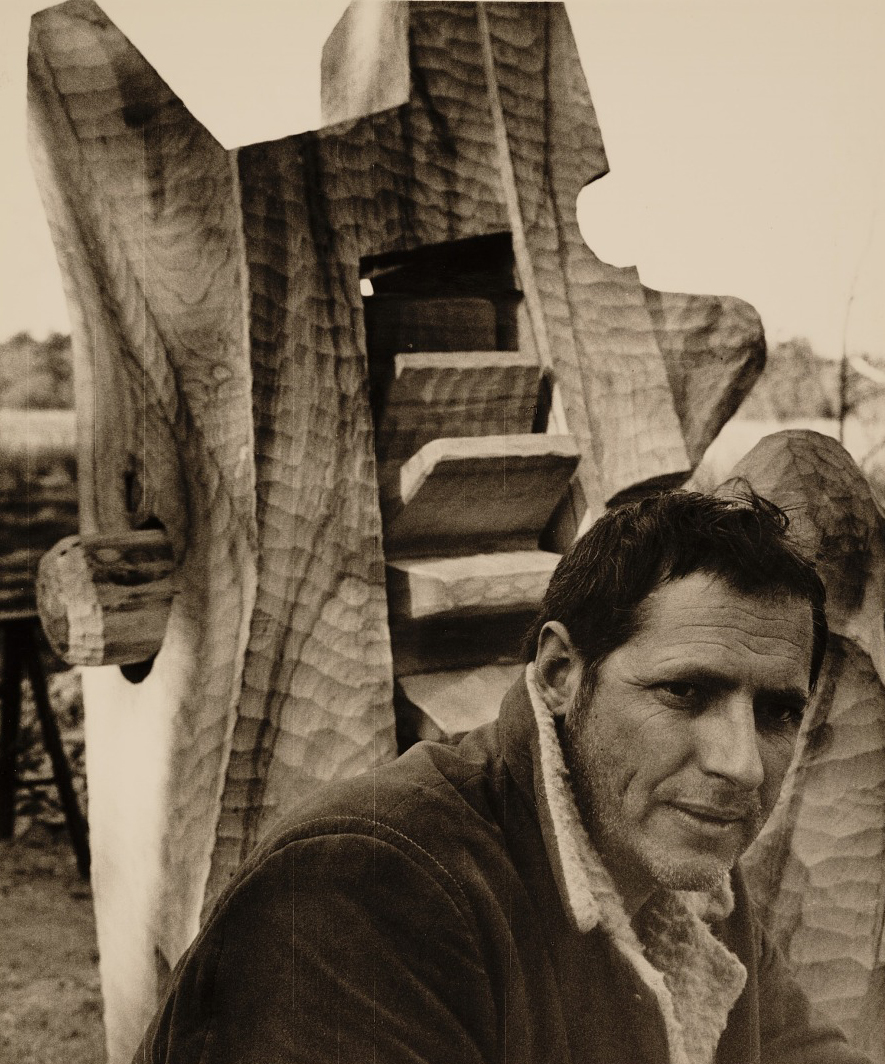 Mr. and Mrs. Warren Brandt generously gifted Little Gull to the Museum in 1981. Warren Brandt, a painter, also attended the Art Students League.4 He later went on to teach at the School of Visual Arts before becoming director of the New York Studio School in 1967.5 His wife, artist and art dealer Grace Borgenicht, presented five exhibitions of Hokanson's work at her New York City gallery.
Explore further: Read more about Hokanson's work for domestic settings on Long Island.
1 Mark Segal and Durell Godfrey, "Legacy of a Woodworking Master," East Hampton Star, August 4, 2016, https://www.easthamptonstar.com/archive/legacy-woodworking-master.
2 Valerie Fletcher, "Hans Hokanson," Landmarks, accessed February 5, 2020, https://landmarks.utexas.edu/artwork/source.
3 Edith Dugmore, and Barbara Kafka, "Wood: Two Approaches to Modern Sculpture," Craft Horizons 26 (July/August 1966): 12–16.
4 Ben Sisario. "Warren Brandt, 84, a Painter in a Style of Domestic Warmth." New York Times, May 19, 2002, https://www.nytimes.com/2002/05/19/nyregion/warren-brandt-84-a-painter-in-a-style-of-domestic-warmth.html.
5 Ruth K. Beesch, ed., Warren Brandt: A Retrospective (Greensboro: University of North Carolina at Greensboro, 1992), 27.