Miriam Schapiro (1923–2015) was a leader in the feminist art movement. She not only pushed for the visibility of women artists living in her time but also celebrated women artists of the past.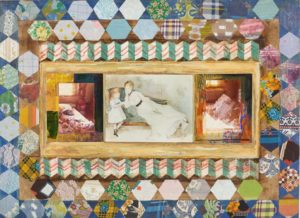 The Heckscher Museum of Art is fortunate to have acquired a work that highlights her interest in women's art and artists: Berthe Morisot & Me (c. 1976) in 2014. The artwork's quilt-like pattern is a hallmark of her work. As a member of the Pattern and Decoration art movement, Schapiro blurred the line between fine art and decoration. She embraced the traditionally "feminine" arts, such as quilting and needlework, in what she referred to as "femmages," or feminine collages.
The Pattern and Decoration art movement, or P&D, was a response to the gender-based hierarchies of western art. Decoration has historically been considered separate from fine art, and artists from the P&D movement pushed back against this. Schapiro stated, "the thing about Pattern and Decoration for us feminists was that in women's traditional art you see pattern and decoration. And of course the decorative was always considered a trivialization."¹ In part, because needlework and quiltmaking are closely associated with women, these art forms are routinely excluded from the art historical canon. Schapiro sought to challenge this division and exclusion by placing decoration in conversation with fine art.
In her resistance to the erasure of women artists she, along with Judy Chicago, founded the Feminist Art Program at The California Institute of the Arts in Valencia in 1971. The women in the program read women writers, studied women artists, and created art centering on their womanhood. The program not only served to inspire younger generations of artists but also allowed Schapiro and Chicago to learn more about women's history. Chicago states that she had to relearn art history, as her education was primarily from men and centered on men.²
Schapiro's interest in the history of women artists manifests in her Collaborations series, in which she created art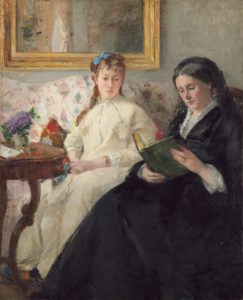 honoring artists of the past. The center of Berthe Morisot & Me is a painting by Berthe Morisot (1841–1895), who was a pioneer for women in the arts in her own right. Morisot was a member of the Impressionist art movement alongside Claude Monet, Édouard Manet, and Edgar Degas. While the men in the movement were permitted to paint scenes inspired by bars and entertainment venues, Morisot was much more restricted as a woman. As a result, she painted scenes of women and children in domestic settings, as seen in the painting in the center of Schapiro's work.
Read Schapiro's oral history here.
1 Oral history interview with Miriam Schapiro, 1989 September 10. Archives of American Art, Smithsonian Institution.
2 Paula Harper, "The First Feminist ART Program: A View from the 1980s," Signs: Journal of Women in Culture and Society 10, no. 4 (1985): 762.