The Museum's Curatorial Department is always working to preserve, research, and share our collection. This week, Assistant Curator Kerrilyn Blee recorded an oral history interview with photographer Joe Constantino (b. 1931) via Zoom. Their conversation centered on examples of his work in the collection, including What's Down There? (1973; printed 2001) and Brooklyn Bridge with Hot Dog Stand (2012). These photographs demonstrate Constantino's interest in street photography and his penchant for experimentation. 
Although Constantino worked at times as a sports and nature photographer, street photography interested him most. Street photographers set out with their camera to capture images in public places. Rather than pose their subjects, they photograph people and moments that they happen to encounter. Constantino remembers taking What's Down There? on a February day in Green Gate Park (now Bill Richards Park) in the Town of Smithtown, near Hauppauge. The charming and mysterious photograph shows three children in skates peering into what we assume is a hole in the ice. Eliminating the sky and any other skaters from the frame, Constantino focused on the atypical figural grouping and the scored surface surrounding them. We look across (rather than straight down) at the children, a perspective that creates the sense that we, too, are crouched on the ice. Unable to see beneath the surface, we are left forever curious: What's down there?!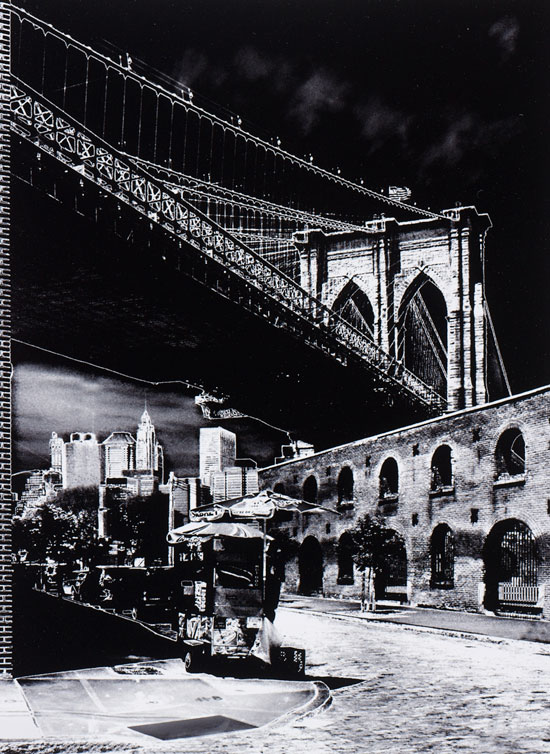 Constantino's Brooklyn Bridge with Hot Dog Stand (2012) also captures the familiar with an unexpected twist. We readily recognize the strong diagonal of the bridge bifurcating the image. Above, the sky is dramatic and dark. Below, the facade of a 19th-century warehouse points to the 21st-century skyline. Constantino rendered this popular view strange through the use of solarization, which reverses the tones of a photograph so that light areas appear dark and dark areas appear light. Solarized photographs by Man Ray first inspired him to explore the technique.
Other New York City photographs by Constantino in the Museum's collection feature landmarks including the Guggenheim Museum, the Manhattan Bridge, The Metropolitan Museum of Art, and the World Trade Center. No doubt influenced by the fact that he grew up there, Constantino feels: "As far as I am concerned, there is no place in the world like New York City. I mean, for street photography, for architectural photography, for just about anything, it is fantastic. That was my favorite place. Just walking the streets."

Constantino also photographed Long Island. His images of the region make use of solarization and infrared photography to create moody, ethereal images of buildings and landscapes. Although he did not intend for these photographs to serve as historical records, he said: "The last time I went east on Long Island, most of the places that I took pictures of aren't there anymore. So, I guess you could call them documentary at the same time." 
Explore further:  
Browse The Heckscher Museum's photography collection to discover experimental photography by Man Ray, as well as street photography by Berenice Abbott, N. Jay Jaffee, Leon Levinstein, Bastienne Schmidt, Neil Scholl, and Garry Winogrand. 
Visit The Metropolitan Museum of Art's Heilbrunn Timeline of Art History to read about early documentary photography [https://www.metmuseum.org/toah/hd/edph/hd_edph.htm] and the continuation of the tradition at mid-century. [https://www.metmuseum.org/toah/hd/ndoc/hd_ndoc.htm]. See the entry on "Postwar Photography in America." [https://www.metmuseum.org/toah/hd/phev/hd_phev.htm] to learn about Constantino's favorite photographer: W. Eugene Smith.