In 2021, the Heckscher Museum acquired sixteen sculptures by Stella Waitzkin (1920−2003). The collection of glass, cast resin, and found objects will be on view for the first time in the exhibition Raise the Roof: The Home in Art, opening on January 28, 2023.
Waitzkin was born in New York City to Jewish Austrian immigrant parents. She began creating art in the 1950s after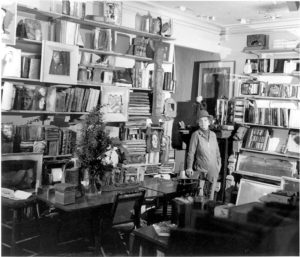 moving from Massachusetts to Great Neck, Long Island, with her husband and two sons. She was a passionate and committed artist, working many hours a day in the studio behind their home. She also loved jazz, and her son, Fred Waitzkin, recalls that she would blast the music of Ornette Coleman, John Coltrane, and Thelonious Monk throughout the house. She started her career as an Abstract Expressionist painter after studying with Hans Hofmann and Willem de Kooning, but she is best known for her environments of cast books and other objects made of luminous resin. 
In 1959, Waitzkin rejected the conventionality of her suburban life and moved first to Riverdale and then later, to Manhattan's West 9th Street. In 1969, she moved into the famous Chelsea Hotel, where she lived for over thirty years. There, her living space and her art became one. She created elaborately sculpted personal environments and immersive installations of book-like forms, giving new meaning to the word "homemaker."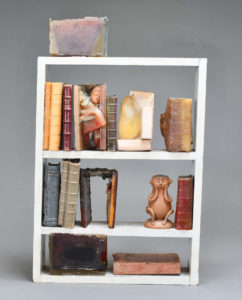 Waitzkin's books, such as Untitled (Wedding Book), are casts of old leather-bound volumes. Like her resin letters, manuscripts, and envelopes, they often do not include words. Waitzkin felt that words could be manipulative and overly suggestive. As unreadable abstractions, her sculptures embody her love of books as objects and metaphors for intellectual freedom. Other small sculptures, like Untitled (Clock with Painted Face), once existed as sumptuous elements of larger assemblages filling freestanding shelves, bookcases, or entire library walls. Small Closet Library is a wonderful example of a composite piece in which individual objects and forms—including books, fruit, and cameo-like faces—come together to form a larger whole.
Explore further: