The Heckscher Museum of Art often lends artworks from its Collection to museums across the country and beyond. Two of our works on paper by Wood Gaylor (1883-1957) are now on view in Maine in an exhibition at the Ogunquit Museum of American Art. On the occasion of this traveling show, Gianna Scavo, Spring 2021 Curatorial Intern, spotlights Gaylor's Lucy and Pascin (1928).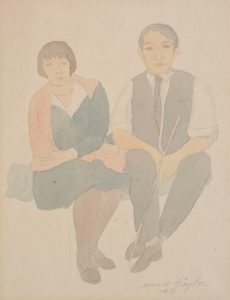 In Lucy and Pascin (1928), Samuel Wood Gaylor uses a watercolor over pencil technique to create a moody portrait of Lucy Krohg and Jules Pascin. The two are seated side by side, and while Pascin squarely faces the viewer, Lucy folds her arms and slightly averts her gaze. The two are rendered in Gaylor's typical style: his first focus was on line, which he then filled in with solid blocks of color, creating flattened forms. Gaylor occasionally painted portraits of friends, often in watercolor. Since the notion of performance underpins many of Gaylor's most recognized works (see, for example, Arts Ball 1918 [1918]), his portraits are multivalent. Are the subjects sitting candidly, or is there some sort of facade? As with most joint portraits, this one prompts the viewer to wonder about the relationship between the artist and the subjects, and the couple's relationship with one another.
Jules Pascin was one of the many notable modernists that Gaylor became acquainted with through his invo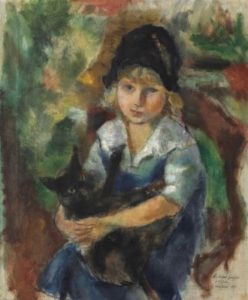 lvement with The Penguin Club, an artists' society founded by Walt Kuhn that hosted experimental exhibitions, playful balls and gatherings, and art auctions. They also both exhibited at the Armory Show of 1913 in New York City. Born in Bulgaria, Pascin pursued his artistic studies in Vienna and Munich before establishing himself in Paris, where he became part of the modernist movement. Though he is mostly known for his works depicting nude and partially nude women, Pascin painted a touching portrait of Wood Gaylor's young daughter seated with a cat, which further suggests that the two artists had established a warm relationship.
We get a glimpse into Pascin's disposition in this reminiscence from fellow Penguin member Louis Bouché: "[O]ne of the most fascinating artists who came to the sketch class . . . was Pascin. . . . He'd have all kinds of tricks, he'd draw your portrait with both hands—both eyes at the same time, both ears at the same time, or he might draw your portrait with eyes shut, and he kept making little drawings all the time."¹ Bouché goes on to recall that he sometimes collected the scattered drawings that Pascin would crumple and toss on the floor. 
Lucy and Pascin was created in 1928, most likely during one of Pascin's visits to New York, which he made to retain his American citizenship. Two years later, Pascin, who had been battling depression and alcoholism, took his own life shortly before a significant solo exhibition in Paris. I would like to imagine that the watercolor portrait in the Heckscher's collection is one that Gaylor held close following his friend's death, and that Bouché might have leafed through his collection of recovered Pascin sketches after he saw this portrait exhibited in Gaylor's 1932 show at the Downtown Gallery in Greenwich Village.
The woman identified as "Lucy" in the portrait's title is Lucy Krohg, born Cecile Vidil in France in 1891. After fleeing an apprenticeship with a sausage maker, Lucy retreated to Paris and began modeling at Montparnasse art academies. Pascin and Lucy became acquainted during a brief affair before she married the artist Per Krohg in 1915, only to reunite with Pascin in 1921. Lucy is often considered merely a part of Pascin's narrative. How often do we consider her as possessing her own story? 
One thing we do know is that Lucy cared deeply for Pascin, and cared for those whom he loved. Lucy, along with Pascin's wife, the artist Hermine David, inherited all of his works following his death. Lucy opened a gallery in 1932, selling the works of Pascin, and embarking on a career that spanned nearly 40 years. She is said to have continued to look after Hermine David, and even featured her works in the gallery. Lucy Krohg was much more than a muse who inspired artists such as Pascin and sculptor Cecil Howard, she was an autonomous and accomplished woman who successfully navigated and contributed to the twentieth-century Paris art scene. 
Explore Further:
Tour the online exhibition, Lucy Krohg: getting past the notion of muse to see fascinating photos from her life and work.
See coverage of the Heckscher's Wood Gaylor exhibition in the New York Times.  
1 Christine Isabelle Oaklander, Wood Gaylor: Consummate Cheerleader for Modernist Art, ed. Andrea P. Rosen (Burlington, Vermont: Fleming Museum of Art, 2020).