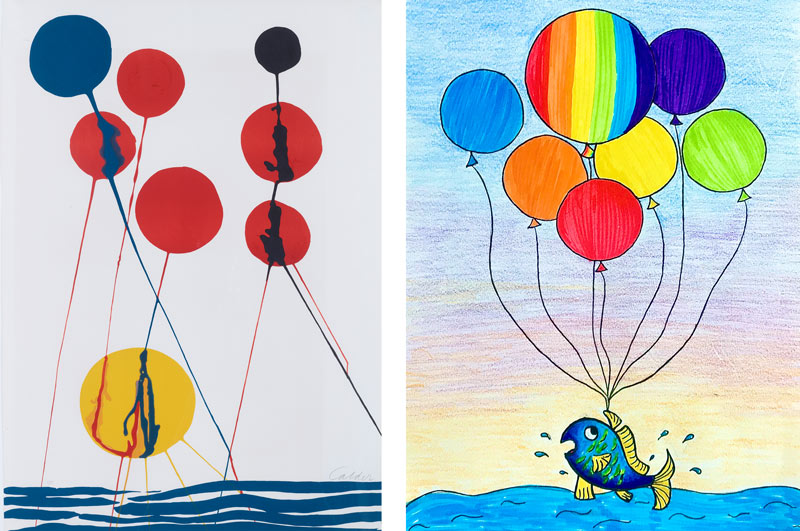 For today's Heckscher at Home Kids Edition, we will be learning about the work of art Balloons by Alexander Calder in our collection and getting inspired to create our own colorful balloon drawings! Lisa Sayedi, Lead Museum Educator, will guide you through every step of the way as you discover, imagine, and create.
Watch Full Instructional Video Below!
Project Overview:
First, dive into Calder's artwork, learning about color, geometric shape, and line. Feeling inspired and using your imagination, create your own colorful balloons drawing with crayons or colored pencil!
Materials:
white paper
pencil
crayons, colored pencils, or markers
one or more objects with a circular-shaped bottom (to trace circles)
Key Concepts:
primary colors
secondary colors
overlapping
color wheel
geometric shapes
line
imagination
background
details

Discussion:
What does Calder's work of art remind you of? What about it looks like balloons? What colors did the artist use? Use your imagination. What else do the shapes, colors, and lines in this work of art remind you of? What do you see that makes you say that?
What are the primary colors? Why are they called that? What happens when you mix primary colors? What are the secondary colors? Why are they called that? How can we draw shapes to make them look like they are overlapping, or front of one another?
What person/animal/object did you draw hanging from your balloons? What made you choose it? What time of day did you show? What details did you include to show this?
Share!
Please share photos of your finished works of art with us on social media and we will post some of our favorites here. And check back next week for our next project! #HeckscheratHome #MuseumatHome
Share your artwork with us!