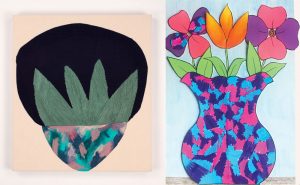 For this week's Heckscher at Home Kids Edition, we will be learning about contemporary artist Amanda Valdez and her piece Sticky Garden, which is on view online in the exhibition Amanda Valdez: Piecework. Then, Lisa Sayedi, Lead Museum Educator, will guide you every step of the way as you discover, imagine, and create your own garden-inspired collage!
Watch Full Instructional Video Below!
Project Overview:
First, we will learn about Amanda Valdez and discover her techniques and methods for combining many materials including embroidery and oil stick. After looking at Amanda's work Sticky Garden, we will get creative and make our own unique collages using cut paper and crayons, colored pencils, markers, or pastels!
Materials:
white paper
pencil
crayons, colored pencils, markers, or pastels
scissors
glue or tape

Key Concepts:
abstract
collage
shape
line
symmetry
details
texture
imagination
Discussion:
Let's take a look at our inspiration work of art. As we're taking a closer look, let's make observations about details that you notice.
What do you see in this work of art? What do the shapes, lines, and colors remind you of? This work of art is abstract. During our first episode of Heckscher at Home we learned about what this means, you can rewatch the episode to learn more! 
Does this remind you of anything real or something from your imagination? Sometimes the title can give a hint to what the artist is thinking about. In Amanda's work Sticky Garden, we see shapes that remind us of a flower or plant. What flower does it look like to you?
If we zoom in and look even closer, Amanda not only uses paint but a variety of other materials to create her piece. Did you notice that the green area or leaves have a different texture than the other parts of the artwork? Amanda uses embroidery thread which she sews to create this texture.  When we use more than one material to create a work of art, it's called mixed media.
Make sure to include lots of details in your artwork!
Share!
Please share photos of your finished works of art with us on social media and we will post some of our favorites here. And check back next week for our next project! #HeckscheratHome #MuseumfromHome