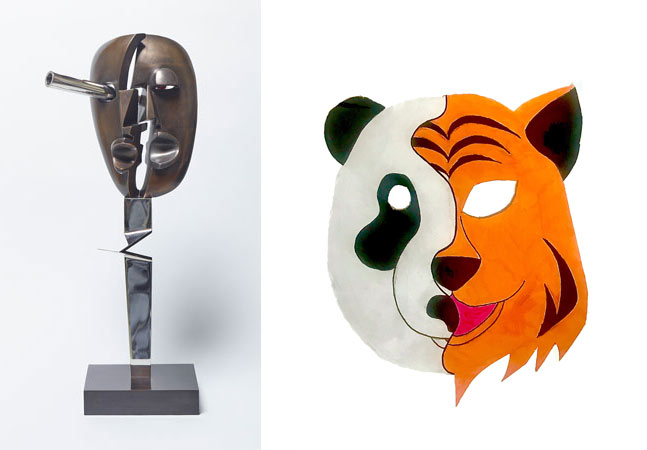 For this week's Heckscher at Home Kids Edition, we will be learning about artist Elizabeth Strong-Cuevas and her piece "Jazz", Lightning I, which is from the Museum's permanent collection. Then, Lisa Sayedi, Lead Museum Educator, will guide you every step of the way as you discover, imagine, and create your own mask masterpiece!
Watch Full Instructional Video Below!
Project Overview:
First, we will learn about Elizabeth Strong-Cuevas and uncover details together as we look closely at her work of art. After getting inspired by her sculpture "Jazz", Lightning I, we will get creative and make our own masks using cut paper and crayons, colored pencils, or markers!
Materials:
white paper

pencil

crayons, colored pencils, or markers

scissors
Key Concepts:

line

3-D

sculpture

shape

details

imagination
Discussion:
Taking  a closer look at our inspiration artwork, let's make observations about details that you notice.
If you were to see this inside of the Museum, would it be hanging on a wall? How would it be displayed? This is a sculpture, which is three-dimensional or 3-D. What do you notice first when you look at Elizabeth's work? It may remind you of a face or mask.
What is unique about the face in her artwork? The face is divided in half. How would you describe the line that Elizabeth created down the center of her sculpture? We can look at the title for the answer!
Masks are fun to wear because we can imagine that we are somebody or something else. Just like Elizabeth created a mask with a unique line down the center and two different sides, let's do the same! Think of different characters, emotions or objects that you can combine and make your mask special. You can be a superhero, an animal, or even an alien, the sky's the limit! Make sure to include lots of details and colors that will make your mask a masterpiece!!
Share!
Please share photos of your finished works of art with us on social media and we will post some of our favorites here. And check back next week for our next project! #HeckscheratHome #MuseumfromHome