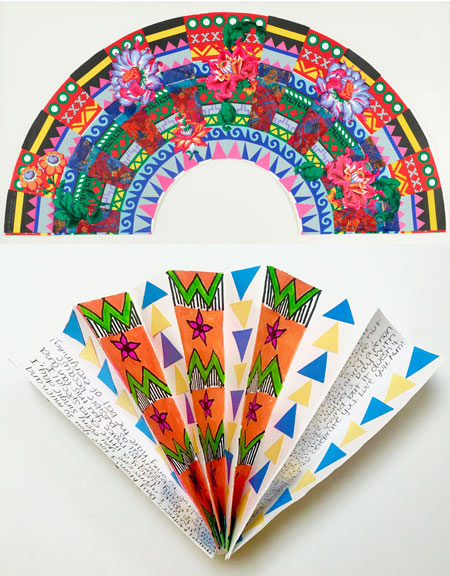 For this week's Heckscher at Home Kids Edition, we will be learning about artist Miriam Schapiro and her piece In the Heat of Winter, which is from the Museum's permanent collection. Then, Lisa Sayedi, Lead Museum Educator, will guide you every step of the way as you discover, imagine, and create your own artwork!

Watch Instructional Video below!
Project Overview:
First, we will learn about Miriam Schapiro and uncover details together as we look closely at her work of art. After getting inspired by her collage In the Heat of Winter, we will get creative and make our own artwork using paper, coloring materials, and scissors to collage our own fabulous fans!
Materials:
white paper
colored paper
scissors
glue
crayons/marker/colored pencil
Key Concepts:
geometric shape
details
pattern
collage
femmage
Discussion:
Taking a closer look at our inspiration artwork, let's make observations about details that you notice.
When you look at this artwork as a whole, what shape do you notice? Miriam Schapiro created this work of art to represent a fan. Have you ever used or made a fan? Miriam uses a lot of geometric shapes and patterns in her artwork. You can see triangles, circles, flowers, waves,  and many more! A pattern is something that gets repeated over and over again in a specific order. Do you have a favorite one?
Throughout Miriam Schapiro's career she wanted to honor female artists across history. She uses a lot of feminine details to decorate and create her collages. A collage is a work of art that is made up of many smaller pieces of different materials that come together to create a bigger picture. She even changed the word collage to femmage to describe her own artwork (feminine + collage = femmage). Today we'll be inspired by Miriam and create our own fan! 
Since Mother's Day is coming up, think of your mom or a woman who has made a difference in your life and dedicate your fan to them! This can also make a great and meaningful gift to give to someone who means a lot to you.
Share!
Please share photos of your finished works of art with us on social media and we will post some of our favorites here. And check back next week for our next project! #HeckscheratHome #MuseumfromHome