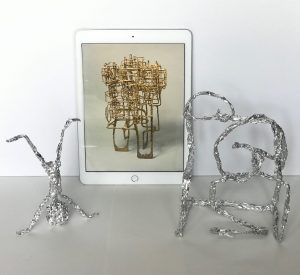 We are happy to kick off our "Heckscher at Home" Kids Edition Series during this unprecedented time. We hope that these fun and educational art activities, which you can create in the comfort of your house, will help you and your family to be positive and creative, too! Stay tuned for new and exciting projects each week!
Today we will be using an everyday household item to create art – tin foil! We will be learning about the abstract sculpture Space Loom XXIII by Ibram Lassaw in our collection and then getting inspired to create our own three-dimensional masterpieces! Lisa Sayedi, Lead Museum Educator, will guide you through every step of the way as you discover, imagine, and create.
Watch Full Instructional Video Below!
Project Overview:
First, dive into Lassaw's artwork, learning about line, form, texture and positive and negative space. Feeling inspired, create your own abstract sculpture with foil! Next, learn about realistic art and make our own sculpture of a real person, place, or thing.
Materials:
tin foil (any type will do, regular, heavy duty, etc.)
That's it!
Key Concepts:
abstract art
realistic art
three-dimensional
line
form
positive & negative space
horizontal
vertical
movement
texture
Discussion:
Compare your two works of art. What is the same? What is different? Which sculpture did you find to be more challenging to make? Why? Which finished product do you like better? Why? If you were going to create another sculpture out of foil, what would you make? Why?
Share!
Please share photos of your finished works of art with us on social media and we will post some of our favorites here. And check back next week for our next project!