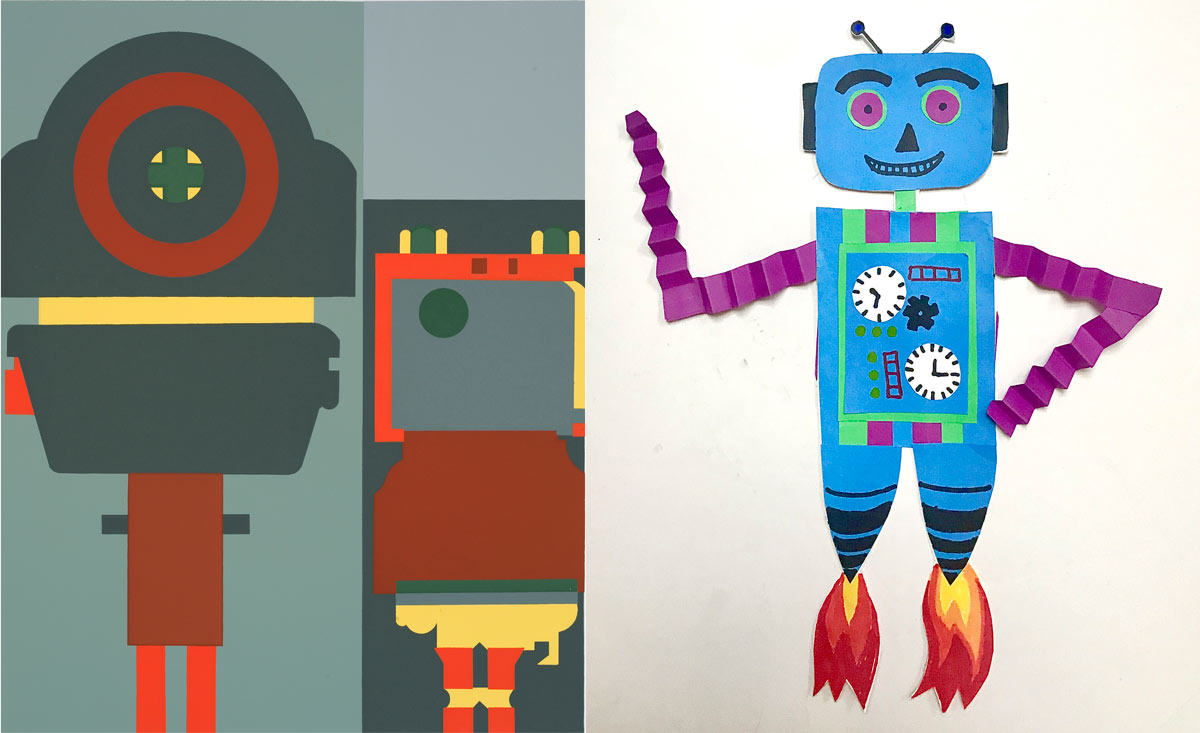 For this week's Heckscher at Home Kids Edition, we will be learning about artist Lee Adler and his piece Two Figures, which is from the Museum's permanent collection. Then, Lisa Sayedi, Lead Museum Educator, will guide you every step of the way as you discover, imagine, and create your own artwork!
Watch Instructional Video Below!
Project Overview:
First, we will learn about Lee Adler and uncover details together as we look closely at this work of art. After getting inspired by his piece Two Figures, we will get creative and make our own artwork. We'll be using paper and glue to create a one of a kind robot collage!
Materials:
white paper
colored paper
pencil
glue
scissors
markers, crayons, colored pencils, etc.
Key Concepts:
geometric shapes
details
imagination
story telling
Discussion:
Taking a closer look at our inspiration artwork, let's make observations about details that you notice.
This is a work of art by Lee Adler and it's called Two Figures. What colors or shapes stand out to you? We can see there are a lot of squares, rectangles, and circles being used throughout this work of art. Shapes that have sharp corners or angular are called geometric. Lee uses them throughout his print and layers the different shapes to create his robots. 
How do you think Lee Adler began his work of art? He used simple shapes to build his robot piece by piece. He began with big shapes first and then added details or smaller shapes that gave each robot their own personality. You'll notice both figures have different characteristics: tall vs. short, small vs. big, wide vs. narrow.
For today's project, we'll be making our own buddies! Like Lee Adler, we'll be using simple shapes and our imagination to make our robots come to life. Use a paper and pencil to sketch out your ideas, and use a variety of shapes and lines to make your two robots different from each other. Will they have any special powers? What colors will you use? Remember to think about the kind of relationship your figures will have and most importantly, name your new friends!
Share!
Please share photos of your finished works of art with us on social media and we will post some of our favorites here. And check back next week for our next project! #HeckscheratHome #MuseumfromHome