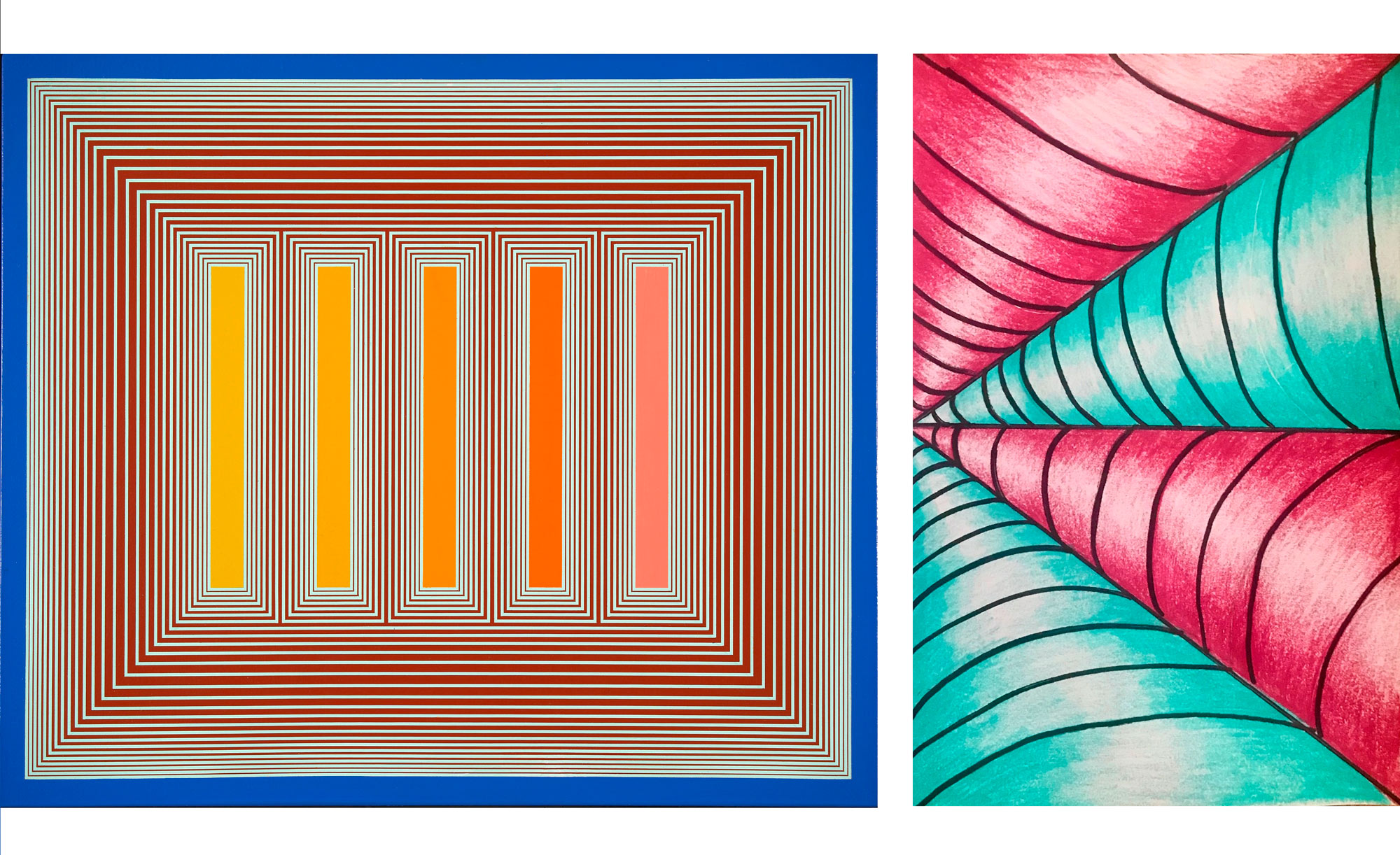 For this week's Heckscher at Home Kids Edition, we will be learning about artist Richard Anuskiewicz and his piece Temple of Ochre, which is from the Museum's permanent collection. Then, Lisa Sayedi, Lead Museum Educator, will guide you every step of the way as you discover, imagine, and create your own artwork!
Watch Instructional Video Below!
Project Overview:
First, we will learn about Richard Anuskiewicz and uncover details together as we look closely at this work of art. After getting inspired by his piece Temple of Ochre, we will get creative and make our own artwork. We'll be creating optical illusions to trick the sharpest of minds (and eyes)!

Materials:
white paper
pencil
eraser
colored pencils/crayons
and patience!
Key Concepts:
optical illusion
details
repetition
shading
contrast
highlights
shadows
movement
Discussion:
Taking a closer look at our inspiration artwork, let's make observations about details that you notice.
This is a painting by Op artist Richard Anuskiewicz and it's called Temple of Ochre. "Op" is short for optical, or in this case optical art! Take about thirty seconds to look at this piece. How do your eyes react? Do the shapes begin to move or change? You may notice that the rectangles seem to shift or vibrate. Why do you think that is? Richard is using color and repetition of line to trick our eyes into thinking the flat surface of his painting can appear to be 3D. Op artists use shapes, patterns, and contrast to create movement and change the way our eyes see something.
There are many different kinds of optical illusions and we can see some of those effects in Richard's painting. The five rectangles can either appear as though they're coming towards you or receding back in space. The artist uses two contrasting colors in the background, red and teal to further the illusion. 
For today's project, we'll be Op artists just like Richard was! We will learn about shading  techniques to create our own illusions. Follow along with Lisa as she demonstrates how to use highlights and shadows to trick everyone's eyes! 
Share!
Please share photos of your finished works of art with us on social media and we will post some of our favorites here. And check back next week for our next project! #HeckscheratHome #MuseumfromHome