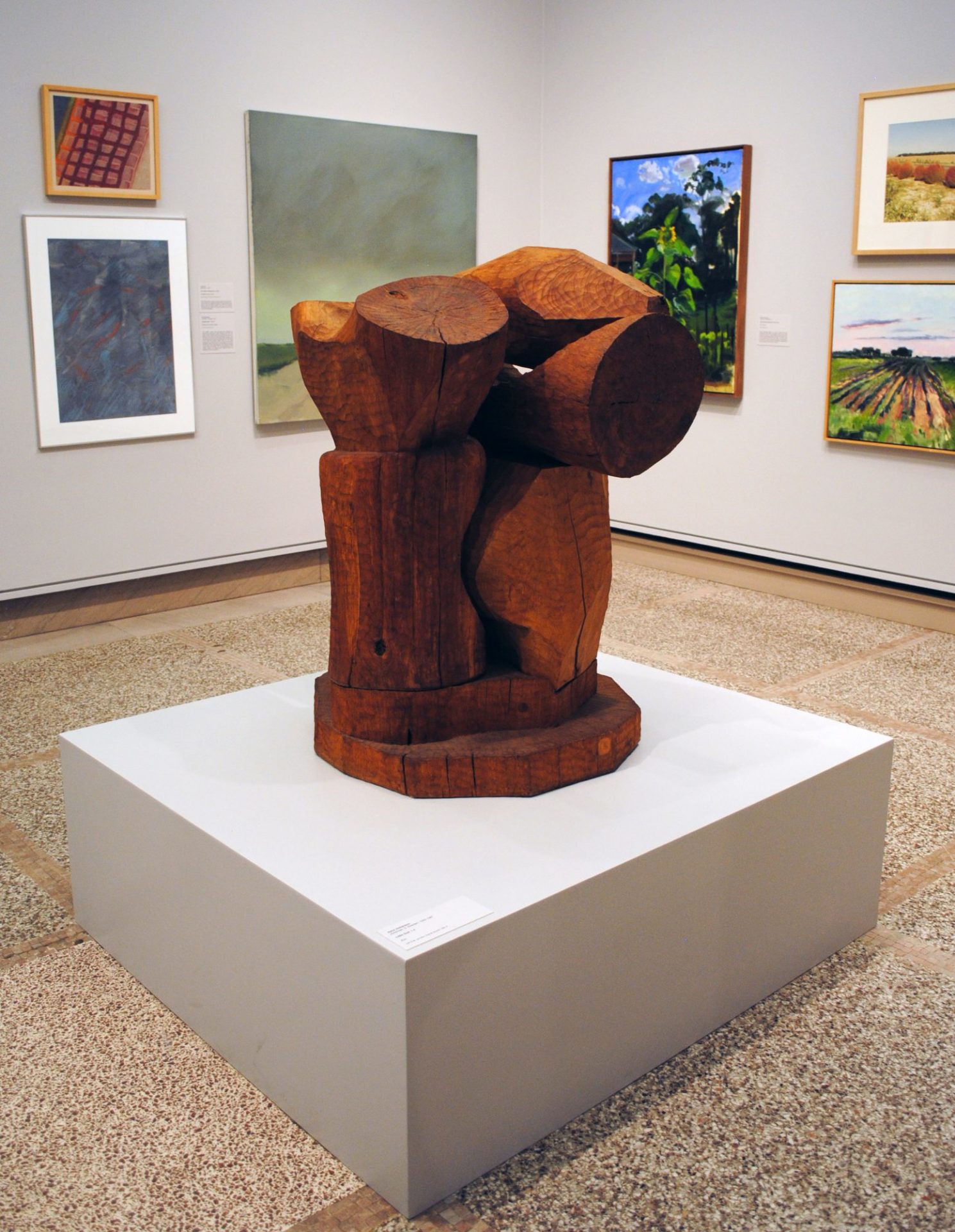 The Heckscher Museum of Art has won a grant from the Greater Hudson Heritage Network (GHHN). The award will be used to conserve Little Gull, a sculpture by Long Island artist Hans Hokanson.  The Museum will receive $6,000 for its conservation efforts, which will be done by Boro 6 Art Conservation, LLC. Little Gull was most recently featured in the Museum's Locally Sourced exhibition in 2020.
According to Curator Karli Wurzelbacher, Little Gull is a rare work from Hokanson created in the mid-1960s, soon after he began living and working in Long Island's Northwest Woods. Hokanson carved the interlocking forms from fallen elm trees found on his property. Little Gull is one of Hokanson's earliest works and one of just two of his sculptures in a public collection on Long Island. The work speaks to international influences on American art; the interrelation between sculpture, carpentry (craft), and painting at mid-century; and the connection between Long Island's natural world and abstract art.
Born in Sweden, Hokanson (1925-1997) moved to New York City in 1956. While studying painting, he worked at  what is now  the Department of the Arts of Africa, Oceania, and the Americas at The Metropolitan Museum. Hokanson learned firsthand about direct carving from this collection of wood sculpture. He also made a living by doing carpentry work for Mark Rothko, and he began visiting the East End of Long Island in the early 1960s to help build Willem de Kooning's studio. As his use of dowels in "Little Gull" attests, Hokanson's sculpting practice grew out of his carpentry. While suggesting rippling water, his vigorously worked surfaces parallel Abstract Expressionist painting. Despite being non-representational, the work speaks to the ongoing power of Long Island's land and sea to attract and inspire artists.
In the course of assembling and installing the sculpture for exhibition, Heckscher Museum's curatorial team became increasingly concerned about the structural instability of the work, the appearance of the old resinous fill material, and the incongruous fine paint splatter on the surface. "We must conserve "Little Gull" now in order to extend its life as an object, to return its appearance to the artist's intention, and to make possible its inclusion in future exhibitions," noted Wurzelbacher.
The Conservation Treatment Grant is a partnership of the New York State Council on the Arts (NYSCA) and Greater Hudson Heritage Network (GHHN) that provides support for treatment procedures by professional conservators to aid in stabilizing and preserving objects in collections of museums, historical, and cultural organizations in New York State. The Robert David Lion Gardiner Foundation has provided additional dedicated support for conservation treatment projects on Long Island and New York City.