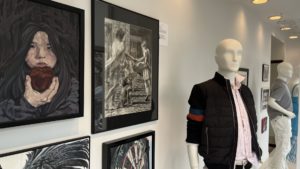 The Museum is thrilled to announce that select student artwork from Long Island's Best: Young Artists at The Heckscher Museum 2023 is now on view at Mitchells in Huntington. The display will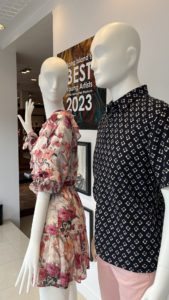 be on view through July 4, 2023, and features artwork by 17 young artists from across Nassau and Suffolk counties.
The artwork is featuresd in Mitchells windows and store alongside their spring collection, making exciting connections between art and fashion. This has been an annual tradition since 2013 with Mitchells, located at 270 Main Street, Huntington. The Museum is thrilled to continue to bring Long Island's Best artwork to Main Street in Huntington.
The Museum congratulates all of the exhibiting artists in these community displays and thanks Mitchells for their support of the next generation of Long Island artists!
Mitchells Exhibiting Artists
Claire Baek, W.T. Clarke HS
Danielle Berkowitz, John F. Kennedy HS
Amelia Bhairo, West Hempstead HS
Natalie Chudecki, West Islip HS
Eva Diesso, Islip HS
Annika Galvin, Huntington HS
Jessica Gelman, Half Hollow Hills HS
Emilia Greco, Northport HS
Grace Kilarjian, South Side HS
Johanna Kim, Plainview Old Bethpage JFK HS
Victoria Libert, Patchogue-Medford HS
Katie Morton, Smithtown Christian School
Grace Nah, William A. Shine GNS HS
Sophia Rose, Harborfields HS
Sophia Tine, Huntington HS
Kerry Yeung, Half Hollow Hills East HS
Alexandra Zlotnikov, Kings Park HS