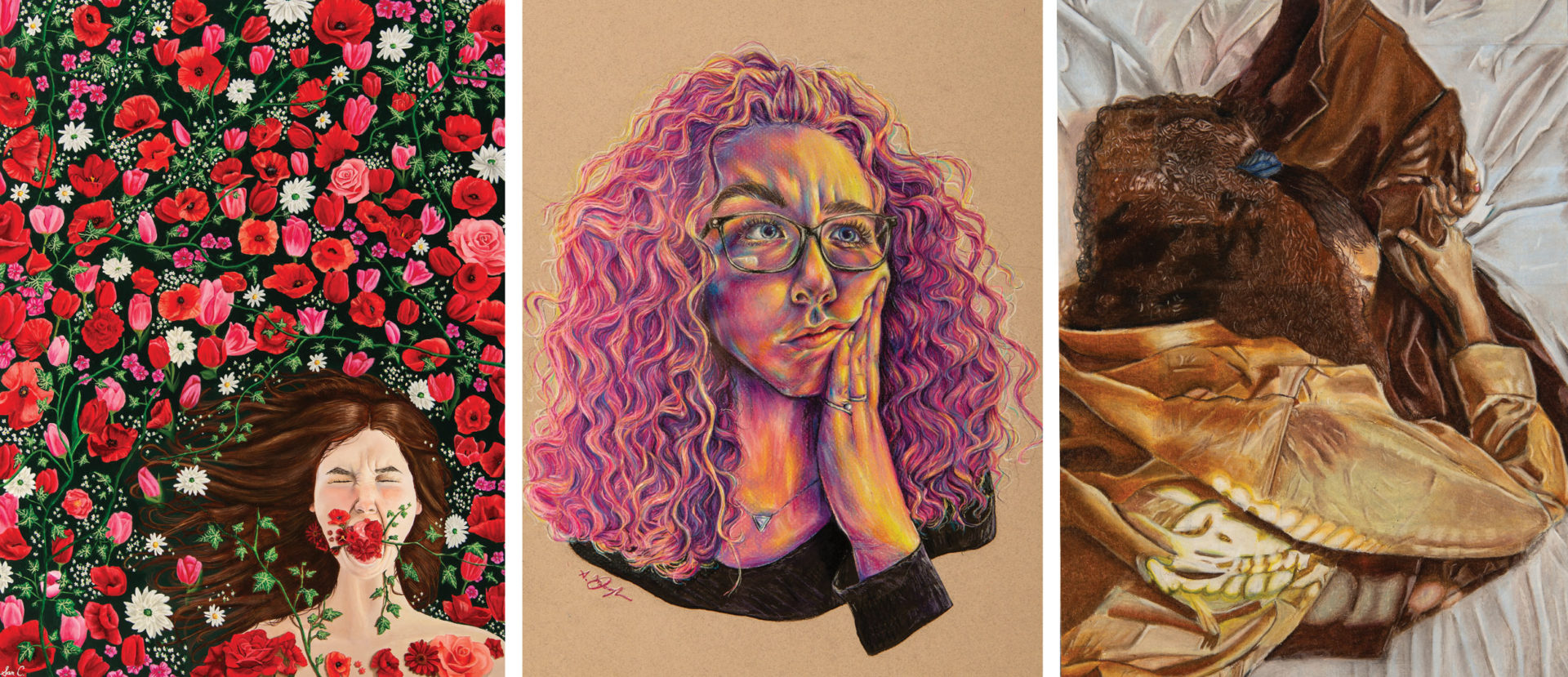 The Museum is thrilled to announce that select student artwork from Long Island's Best: Young Artists at The Heckscher Museum 2021 will be on view at Mitchells in Huntington and Firefly Artists in Northport. Both artwork displays will be on view from May 25 through June 27, 2021, and together they feature artwork by 33 young artists from across Nassau and Suffolk counties.
24 incredible works of art will be on view in the Mitchell's windows alongside their spring collection, making exciting connections between art and fashion. This has been an annual tradition since 2013 with Mitchells, located at 270 Main Street, Huntington. The Museum is thrilled to continue to bring Long Island's Best artwork to Main Street in Huntington.
The display at Firefly Artists, located at 180 Main Street in Northport, is a new collaboration and a wonderful way for the extraordinary student artwork in Long Island's Best to reach the Northport Village community. Firefly Artists was recently expanded to include a larger gallery space where nine students' work will be featured. The display will include artwork by three students whom the gallery generously awarded Firefly Gallery Next Generation Awards this year.
The Museum congratulates all of the exhibiting artists in these community displays and thanks Mitchells and Firefly Artists for their support of the next generation of Long Island artists!
Mitchells Exhibiting Artists
Tyler Basil
Samantha Christian
Elijah Croom
Julianna Curcio
Iris Fan
Thalia Kukkonen
Stephanie Lopez
Leslie Madera
Stephanie McDonough
Maris O'Brien
Mia Oquendo
Victoria Rodgers
Rosalia Rosato
Caroline Roser-Dialma
Bianca Santaromana
Maria Slavnova
Anna Varveris
Paola Vicini Jaramillo
Matthew Vo
Cindy Wang
Zihao (Andrew) Wang
Kayleigh Wieboldt
Kaylee Wimmer
Madison Yeh
Learn more about Mitchells Display
Firefly Artists Gallery Exhibiting Artists
Annemarie Cabrera
Nneka Nnabuogor
Samantha Pesiri
Kelly Ryan
Godlee Sainvillus
Anays Sarauz
Natalie Schiff
Roman Taglieri
Isabella Weber
Learn more about Firefly Display