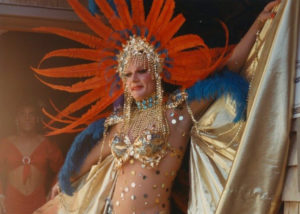 The Heckscher Museum of Art has acquired 11 photographs from Long Island artist Joanne Mulberg.
Mulberg, an artist and LGBTQ+ ally, is known for her photographs of Fire Island's The Pines and Cherry Grove communities throughout the 70s and 80s. Her images capture everything from house parties and beach scenes to the iconic Miss Fire Island pageant.
Heckscher Museum Curator Karli Wurzelbacher explains, "Fire Island is a quintessential part of Long Island. I'm glad that some of the stories of Fire Island communities are now represented in the permanent collection. The Museum looks forward to continuing to increase the visibility of LGBTQ+ artists, subjects, and histories in our exhibitions and collection."
A special display of this series of photographs was in the gallery in honor of the Long Island Pride Parade and festival in June.  Mulberg will be featured in the upcoming exhibitions New Acquisitions in March 2024, and Pride in the Collection slated for 2025.
Executive Director and CEO Heather Arnet, talks about Pride: