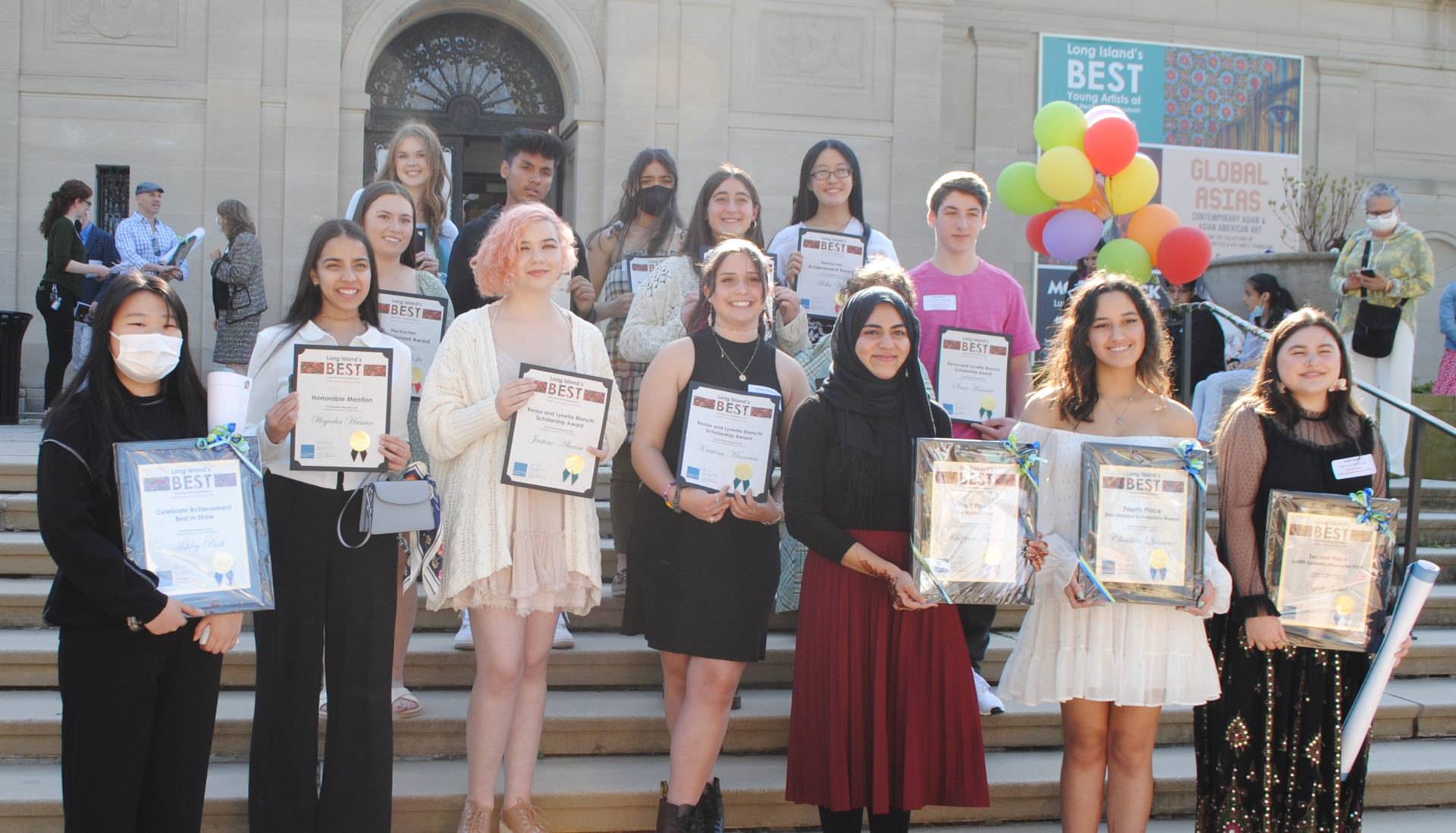 The Museum would like to congratulate all of the exhibiting artists and award winners for Long Island's Best: Young Artists at the Heckscher Museum 2022! Now celebrating its 26th year, Long Island's Best is the only juried exhibition for Long Island high school students that provides the opportunity to exhibit in a museum. Students are encouraged to think outside the box as they work in a broad range of media, styles, and subjects.
This year there were a record-breaking 399 student submissions, representing 55 participating high schools across Long Island. Karli Wurzelbacher, Heckscher Museum Curator, and guest juror, artist, and Long Island's Best Alumna Emily Martin, selected 79 works of art for inclusion in the exhibition as well as numerous award winners. The Museum congratulates all of this year's exhibiting young artists for their remarkable achievements!
Exhibiting artists, friends, family, teachers, and Museum Members and Donors were invited to view the exhibition during an exclusive Long Island's Best Preview Day on Saturday, April 30. And for the first time since 2019, award-winning students attended in-person award ceremonies held that evening. A wonderful time was had by all and the Museum was thrilled to be able to hold these ceremonies in person again. Congratulations once again to all of the exhibiting students!
List of all exhibiting artists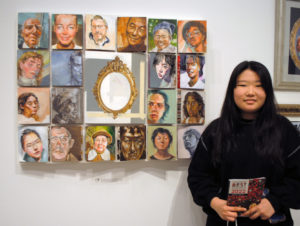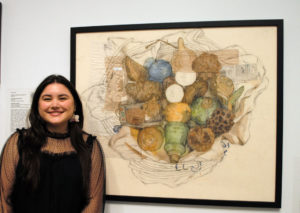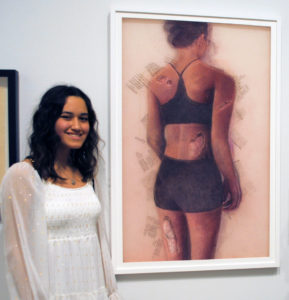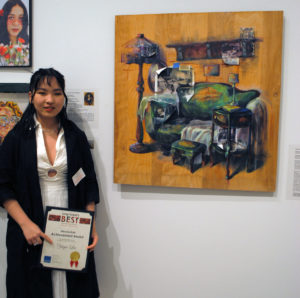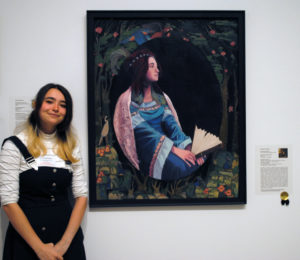 Top Four Awards:
Ashley Park, Half Hollow Hills High School West – First Place, Celebrate Achievement Best in Show
Anjali Gauld, Manhasset High School – Second Place, Judith Sposato Memorial Prize
Khizran Fatima, Hicksville High School – Third Place, The Hadley Prize
Charlotte Quintero, Hicksville High School – Fourth Place, The Stan Brodsky Scholarship Award
Heckscher Achievement Awards:
Aisy Francisovich, Huntington High School
Yuyu Liu, Portledge School
Amelia Volpe, Bayport-Blue Point High School
Alisha Zhou, Manhasset High School
Honorable Mentions:
Wajeeha Hassan, Jericho Senior High School
Ellie Johnson, Northport High School
Anna Lambert, Division Avenue High School
Sivan Pyle, Hebrew Academy of Nassau County
Renzo & Lynette Bianchi Scholarship Awards:
Justine Abarca, Northport High School
Cristian Avelar-Romero,  Huntington High School
Betsey Castro, Bellport High School
Natalie Hayes, East Rockaway High School
Kristina Mancuso, Patchogue-Medford High School
Sean Mascaro, John F. Kennedy High School
Andrew Presberg Promising Young Artist Awards:
Lucas Ceraso, Huntington Fine Arts
Daniella Dell'Aquila, Manhasset High School
Cozza Family Photography Award:
Betsy Castro, Bellport High School
Cozza Family Art Award:
Yuyu Liu, Portledge School
Joseph Mack Achievement Award:
Alisha Zhou, Manhasset High School
Huntington Fine Arts Honorable Mentions:
Amelia Bhairo, West Hempstead High School
Rachel Chong, Plainview-Old Bethpage JFK High School
Daniella Dell'Aquila, Manhasset High School
Vazira Khakimova, Hicksville High School
Sean Mascaro, John F. Kennedy High School
Firefly Gallery Next Generation Awards:
Justine Blain, Valley Stream Central High School
Yuyu Liu, Portledge School
Zhezhong Yu, Roslyn High School
Donald & Gloria Horn Scholarship Award:
Grace Marazzo, Division Avenue High School

Donald G. Horn, Jr. Scholarship Award:
Ella Provisero, Cold Spring Harbor High School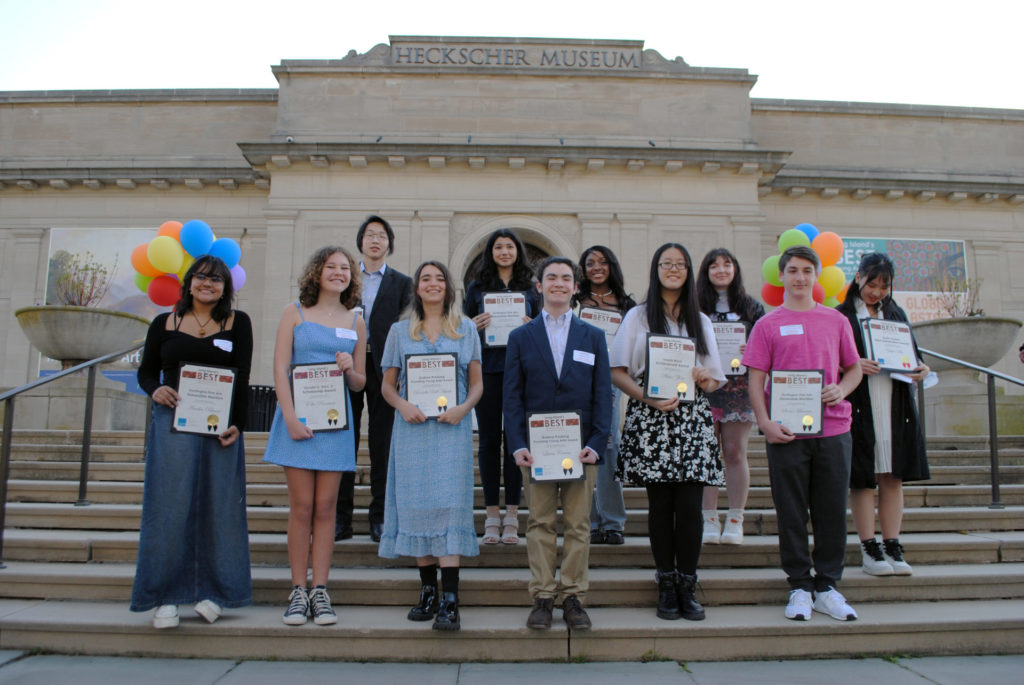 ---
PRESENTING SPONSORS
The Milton & Sally Avery Arts Foundation, Inc.
The Darrell Fund Endowment/Henriette Darrell
Pritchard Charitable Trust
ARTISTIC SPONSOR
Strong-Cuevas Foundation
PATRON SPONSORS
TD Charitable Foundation
Dr. Lee MacCormick Edwards Charitable Foundation
EXHIBITION CATALOGUE SPONSORS
Inna Gellerman, DDS, Gellerman Orthodontics
Callaghan LLP