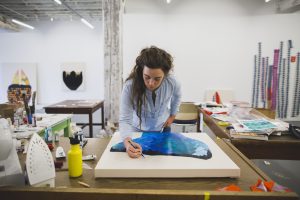 Browse images of all of the artwork, explore the digital exhibition brochure, and read Curator Karli Wurzelbacher's essay on the artist and her work.
This exhibition features 20 works of art, including several that are among the artist's largest and most recent. Valdez pieces together varied materials, forms, and traditions of making to construct complex and beautiful paintings. She assembles her brilliantly colored, textured, and patterned work by cutting, dyeing, painting, sewing, and embroidering cloth and paper. Spanning 2013 to 2019, this exhibition explores the artist's creation of visceral and allusive abstractions.
Valdez was born in Seattle and lives in New York City. She created some of the work in this exhibition during artist residencies in Omaha, New Orleans, and Corsicana, Texas.
Amanda Valdez Responds
In honor of the Museum's 100th anniversary, we asked Amanda Valdez to respond to artworks in our permanent collection. It is remarkable to see the historic collection through her eyes, and to see her recent paintings in connection with our nineteenth- and twentieth-century holdings. Visit the Museum's online Collection Database to see the artworks she connected with and to read her reflections.
Instagram Takeover
Join exhibiting artist Amanda Valdez for an Instagram Takeover of @heckschermuseum on Tuesday, April 7. She will be sharing exclusive content—discussing her process, materials, and techniques—and answering questions throughout the day! If you want to submit a question ahead of time, enter it in the form below or message @heckschermuseum on Instagram. Otherwise, pose your questions on Instagram in real time on April 7. The artist will address as many questions as possible!