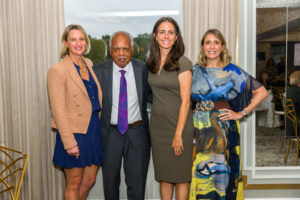 The Museum's 2023 Celebrate Achievement Benefit was a fabulous success! The event honored Susan Van Scoy, Ph.D., Robert G. Carter, artist, and Andrea Wozny, 1999 Long Island's Best alumnus, for their unique contributions to the arts and support of The Heckscher Museum.  Pictured left, benefit honorees with Heather Arnet, Executive Director and CEO.
The event Co-Chairs did a wonderful job in bringing this benefit to life. Pictured below, left to right: Sarah Heric, Jill Seiman-Mayer, Jessica Brassler, Susie Futter, Jen Zuklie, Elizabeth Halpern, Katie Morin, Erin Cunningham, Poranee Chen, and Richard T. Cunniff, Jr.
The venue was the picturesque Water's Edge, Centerport, NY, across the pond from the Arthur Dove/Helen Torr Cottage, the inspiration for the October 14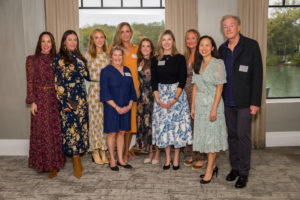 gala.  The day included a silent auction of amazing original artwork from five Long Island Biennial artists, and five Long Island's Best high school students.
Artists from Drawn Together NYC sketched portraits of guests throughout the afternoon, and the Highline String Quartet provided the music.
Thank you to all the sponsors and donors for their generosity in ensuring that the Museum continues its mission of bringing art and inspiration to the community.
Enjoy these photos from the event, and see a full list of sponsors.