I've always wanted my work not to just be angry but point toward some resolution or express some optimism. But it's been harder and harder to come up with something positive. …I basically stopped worrying about putting out a positive message anymore; I felt that it was OK to express being furious.1 Alison Saar, 2020
Alison Saar (b. 1956) is a biracial artist known for exploring issues of race, gender, and the legacies of the
transatlantic slave trade in her work.2 Like her mother Betye Saar, she reimages Black characters in American pop culture as figures with more agency. Topsy, a character from the novel Uncle Tom's Cabin written by Harriet Beecher Stowe in 1852, inspired Saar's 2021 print Reapers. While Stowe wrote the novel to share her anti-slavery beliefs, its Black characters relied on and gave rise to racial stereotypes that persist today.3 Topsy was a mischievous and wild child. She never listened, and she served as a foil to the character Eva, a sweet and demure white child. Historically, visual culture has depicted Topsy in a range of demeaning ways. Some works, like the Staffordshire figure in the Winterthur Museum, Garden, and Library collection, show Topsy at the knee of the angelic Eva. This perpetuates the art historical trope, common during the abolitionist movement, of an enslaved figure kneeling before a sympathetic white person.4 Other depictions are much more violent in their treatment of Topsy, and she is shown with her hair tied up in knots, dressed in rags, and in the midst of creating chaos.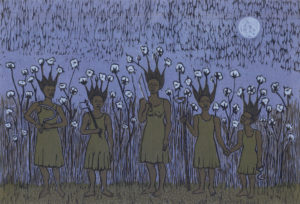 Saar's work, however, gives Topsy more dignity and power. Topsy is reimagined as five young girls stepping out of a cotton field, hair tied in cotton as camouflage.5 They wield tools used to harvest slave crops: a sickle for rice, a hoe for indigo, a machete for sugarcane, a knife for tobacco, and a bale hook for cotton. They are positioned to fight for their freedom. In this depiction, Saar recasts Topsy's mischievousness and foolishness as rebelliousness and bravery. The character's refusal to bend to the rules is portrayed here as her intention to free herself from the shackles of enslavement. Printed on a found sugar sack and dyed an indigo color, Saar created the work itself out of the very commodities Black people were forced to cultivate.
While Saar's work depicts a scene from a book written in antebellum America, it came out of a place of 21st-century frustration, fear, and anger that many in the Black community feel. Saar began creating work about Topsy in response to a combination of the deaths of Black men and women at the hands of police officers and the racist rhetoric aimed at President and First Lady Barack and Michelle Obama.6 Her use of an enslaved child to depict the current violence done to Black Americans was intentional; it reveals how difficult it is to separate contemporary events from America's history of enslavement and white supremacy. Saar created Reapers in 2021, a year after Breonna Taylor, George Floyd, and other African Americans were killed by the police. Saar hopes that, perhaps, out of the violence and pain a revolution will occur.
Be sure to see Saar talk about her work in this Topsy Turvey exhibition video:
https://www.youtube.com/watch?v=CGqk5sy-Lm8&t=8s.
To see the Topsy Turvy 2018 exhibition, visit:
https://lalouver.com/exhibition.cfm?tExhibition_id=1692.
To learn more about the visual and material culture of Uncle Tom's Cabin see the Winterthur Museum's online exhibition Re-Presenting Black Womanhood:
https://stories.winterthur.org/re-presentingblackwomanhood-uncle-toms-cabin/.
To read Harriet Beecher Stowe's, Uncle Tom's Cabin visit:
 https://www.loc.gov/item/00004791/
---
1 Jori Finkel, "Alison Saar on Transforming Outrage into Art," New York Times, November 5, 2020, https://www.nytimes.com/2020/11/05/arts/design/alison-saar-los-angeles.html.
2 Judith Wilson, "Down to the Crossroads: The Art of Alison Saar," Callaloo vol. 14, no. 1 (1991): 107-123.
3 "Uncle Tom's Cabin: A Moral Battle Cry for Freedom," Harriet Beecher Stowe Center (Harriet Beecher Stowe Center, n.d.), https://www.harrietbeecherstowecenter.org/harriet-beecher-stowe/uncle-toms-cabin/.
4 See examples of this trope in Kirk Savage, Standing Soldiers, Kneeling Slaves: Race, War, and Monument in Nineteenth-Century America (Princeton, NJ: Princeton University Press, 2018); other examples can be found here.
5 Saar often uses Black hair to represent resistance. See The Metropolitan Museum of Art's Nappy Head #1.
6 L.A. Louver Gallery, "Alison Saar: Topsy Turvy (2018)," YouTube video, 7:35, May 4, 2018, https://www.youtube.com/watch?v=CGqk5sy-Lm8&t=1s.