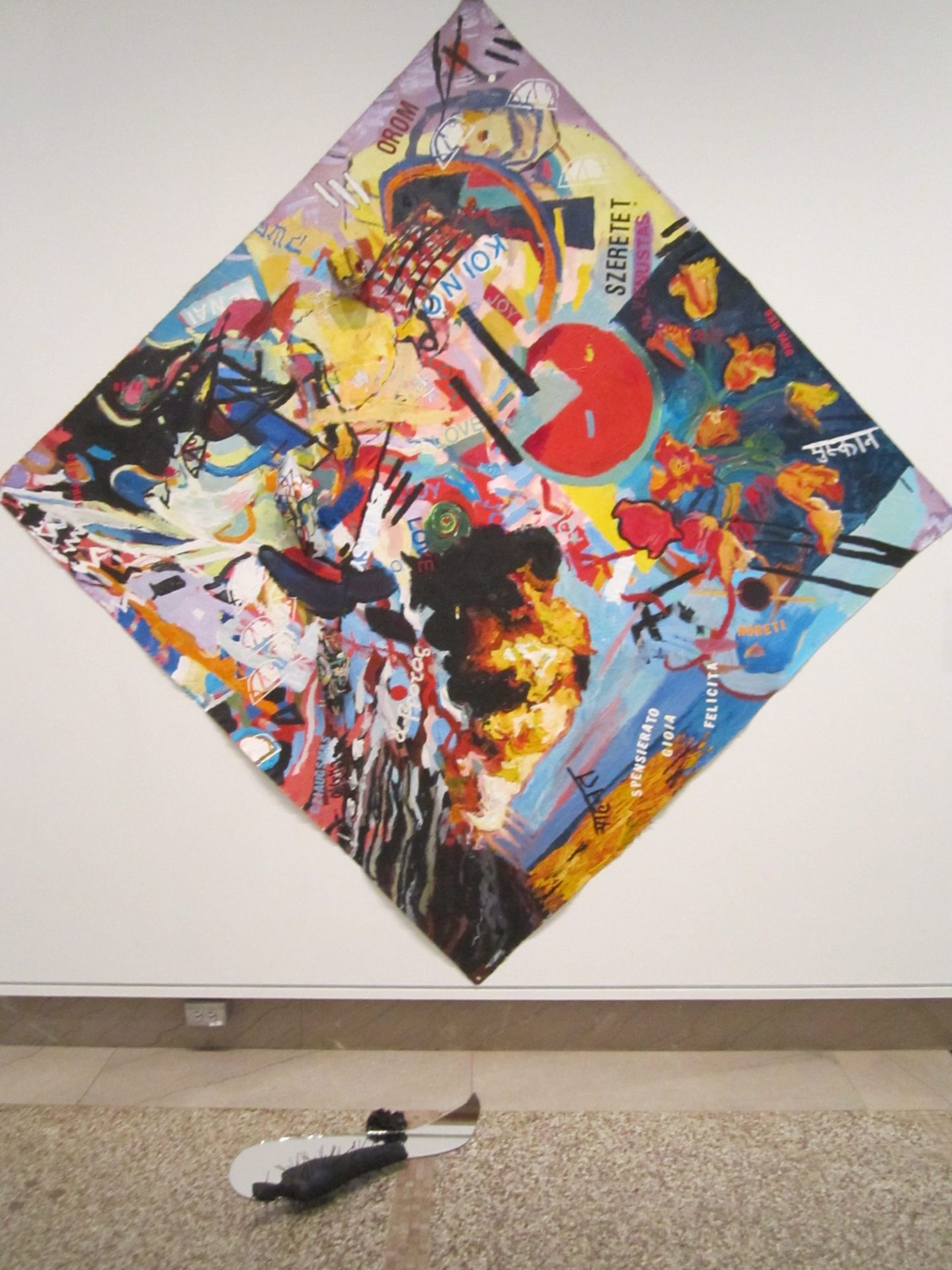 In Relationships (Kandinsky #1) (1996), Howardena Pindell blends varied artistic languages to create a multimedia work bursting with energy and meaning. The diamond-shaped acrylic on canvas painting will be a highlight of the 2021 exhibition The Heckscher Museum Celebrates 100: Tracing History, Inspiring the Future. 
The Museum acquired Relationships (Kandinsky #1) on the occasion of the 1999 exhibition Witness to Our Time: A Decade of Work by Howardena Pindell. The show brought together 6 large scale works in which Pindell (b. 1943) addressed racism, environmental devastation, economic inequality, and war from her perspective as a woman of color. Slavery Memorial: Lash and Sweatshop, for example, both appeared in the exhibition (view them here).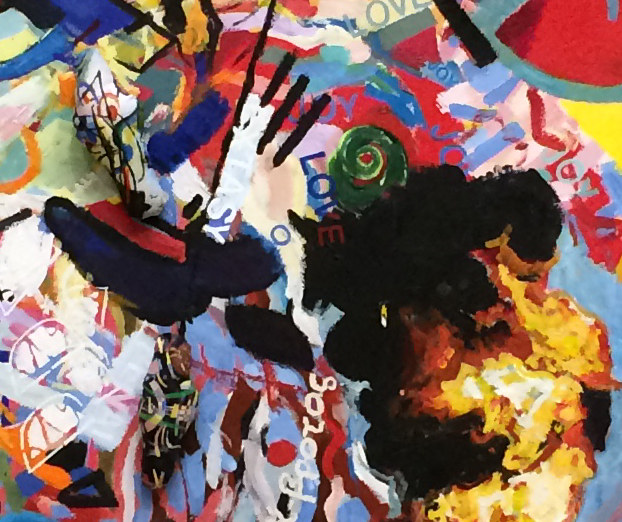 Relationships (Kandinsky #1) is at once an extension of these more overtly political works and a counterpoint to them. A fiery plume, which Pindell has described as "burning wells" (perhaps a reference to the 1991 burning of Kuwait's oil fields during the Gulf War) rises from the bottom point of the canvas and threatens a landscape of blue sea and sky [1]. The mirror resting on the ground represents tears. Yet the painting literally spells out an international message of love: the words for love and affection radiate across the canvas in languages including French, Hindi, Hungarian, Italian, Korean, Norwegian, and Vietnamese.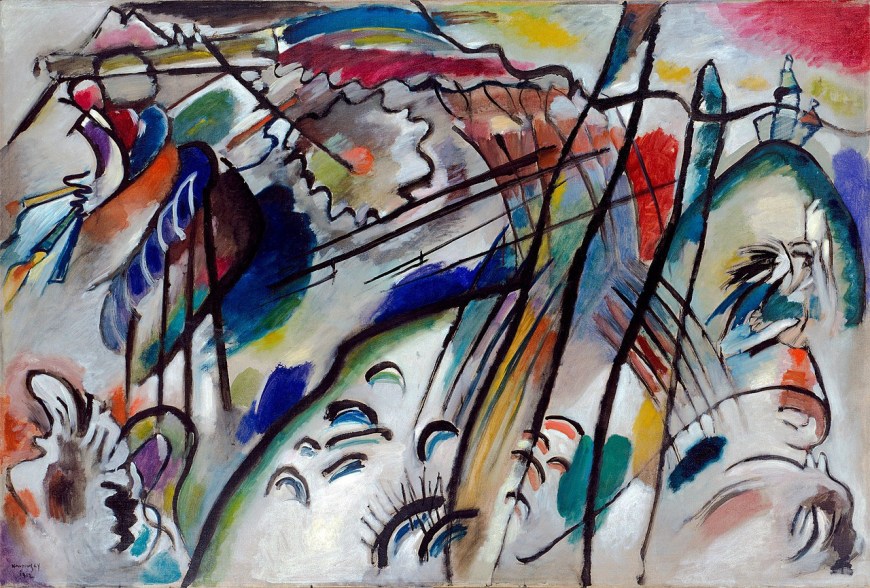 Pindell's painting riffs on early twentieth-century abstraction. As in the work of pioneering Russian-born artist Wassily Kandinsky (1866–1944), her composition features diagonal black lines, concentric arcs and circles, and brushy patches of vibrant color. Pindell's familiarity with the artist's work stemmed in part from her experience as a curator at The Museum of Modern Art, New York, in the 1970s. Her position allowed her to "access the galleries outside of opening hours. It was like a visual library where I could see works by artists I admired—Wassily Kandinsky, René Magritte, Odilon Redon" [2].
In addition to engaging the history of Western modernism, Relationships (Kandinsky #1) draws on African art. Pindell explains, "Black aesthetics for me, means being conscious of African art. I think using aggregates is African, like mixed media putting a lot of different substances together" [3]. According to the artist, the three-dimensional objects collaged onto the surface of the painting and placed on the ground allude to personal relationships both positive and negative. One form is pierced by nails, "similar in feeling to African sculpture referred to as nkisi." Pindell intends the canvas to be presented unstretched and pinned directly to the wall, a practice she adopted after viewing textiles in Africa and experimental painting by fellow members of the women's cooperative A.I.R. Gallery in New York City.  
Relationships (Kandinsky #1) is about the artist's interpersonal relationships as well as the relationships between artistic traditions. It is also animated by the relationship between abstraction and politics, a question Pindell continues to ponder today: "my practice has two heads: my abstract works are about beauty and finding a peaceful place to put my thinking; my more figurative pieces address political issues. I need that mental balance" [4].
References:
[1] Unless otherwise noted, quotes by Pindell are from a 1999 statement about Relationships (Kandinsky #1) housed in the Museum's exhibition files. The full text appears in our online database. 
[2] Osei Bonsu, "50 Years of Art and Activism: An Interview with Howardena Pindell," Frieze, September 25, 2019.
[3] Pindell, quoted in Jessie L. Whitehead, "Theorizing Experience: Four Women Artists of Color," Studies in Art Education 50, no. 1 (Fall 2008): 30. 
[4] Bonsu, "An Interview with Howardena Pindell." 
Explore further: Hear from Pindell in this brief video surveying her decades-long career. Read about her recent accolades and her thoughts on teaching at Long Island's Stony Brook University, where she is a professor of painting and conceptual drawing. Peruse the scholarly essays and artist's writings gathered on the occasion of Pindell's 2018/2019 retrospective at the Museum of Contemporary Art Chicago, the Virginia Museum of Fine Arts, and The Rose Art Museum.