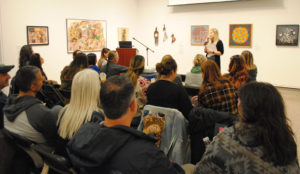 The Museum's Annual Superintendent's Day Conference for K-12 art teachers on November 8, 2022, was a smashing success. There were 114  art teachers from 21 school districts across Long Island at this full day of Professional Development at both The Heckscher Museum of Art and nearby Huntington Fine Arts. This unique full day experience is designed to inspire teachers to make authentic connections as artists, and gain fresh ideas to enhance their curriculum in the classroom. Teachers receive professional development credits for the day's activities. 
At the Museum, Long Island Biennial exhibiting artists Keith Gamache and Darlene Blaurock shared their artistic processes and practices. Keith Gamache, an art teacher at South Side High School in Rockville Centre, spoke about his process of painting on pegboard. Darlene Blaurock, an art teacher at Kings Park High School, discussed her multi-layered mixed media collages. Following each presentation was the opportunity to get hands-on as well as share with colleagues.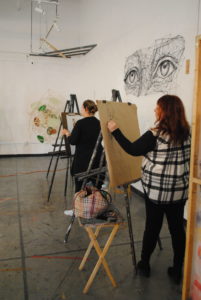 At Huntington Fine Arts, Long Island Biennial exhibiting artist Lauren Skelly Bailey discussed her unique three-dimensional ceramic process. Lauren demonstrated how teachers could be inspired by her ideas no matter what grade level they taught. Everyone was then invited to work with both clay and model magic. The incredible studio space at Huntington Fine Arts offers teachers the opportunity to dive deep into additional hands-on activities. A live nude model was posing, and a dozen unique still lifes were set up for everyone's drawing pleasure.
"It's fabulous to see how this conference has continued to grow over the years," commented Director of Education & Public Programs, Joy Weiner. "Being a resource for K-12 art teachers and their students is at the very heart of our mission at the Museum and it's a pleasure to be able to offer this conference every year. This year, it was particularly wonderful to see such a high turn out, to be able to work with three of the exhibiting artists whose work is currently on view in the Long Island Biennial, and to continue to collaborate with Huntington Fine Arts in Greenlawn."