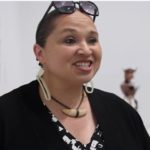 "As a Shinnecock person, I know what's happening on Long Island. But as coastal people, water is rising everywhere. So you build a better conversation when you can build community and collective responsibility."
Artist Courtney Leonard speaks eloquently about her retrospective at The Heckscher Museum and the work that honors her Shinnecock heritage with NewsdayTV.  COURTNEY M. LEONARD: LOGBOOK 2004-2023 is now on view.
The Heckscher Museum of Art and Planting Fields Foundation are pleased to present the work of artist Courtney M. Leonard (b. Shinnecock, 1980), on Long Island this summer, through COURTNEY M. LEONARD: Logbook 2004–2023 at The Heckscher Museum and BREACH: Logbook 23 | ROOT at Planting Fields Foundation. Visit Heckscher.org and Plantingfields.org for more information about these two dynamic exhibitions, including new commissioned work by Leonard, and related programming at each location.