Adopt A Work:  The Harwood Family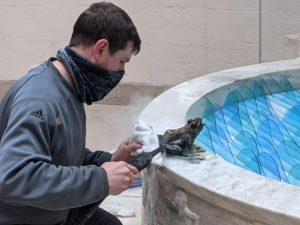 The Evelyn Beatrice Longman Youth Eternal fountain was commissioned by founders August and Anna Atkins Heckscher to coincide with the dedication  of the new museum in 1920.  The marble fountain has special significance as it depicts the Heckscher's grandchildren. After a century, the fountain was in need of restoration, particularly the bronze frog that is the focal point of the fountain.
The frog and the bronze commemorative plaque were recently conserved in memory of artist and friend Norine E. Lyons by Bob, Karolyn, Andrea, and Emily Harwood. In time for The Heckscher Museum Celebrates 100, the bronze and surrounding marble were steam cleaned to carefully loosen dirt and staining that had permeated the surfaces.  A protective coating of conservation wax was then applied to the bronze to prevent further deterioration.
Learn more about the artist and the fountain in Curator Karli Wurzelbacher's interview with Urbanist and The Streamcast Network
A complete list of works available for conservation can be found at heckschercollection.org under the Adopt a Work tab. A donation is tax deductible. To adopt a work of art, please contact Deborah Johnson, Deputy Director & Director of Development, 631.380.3229 ext. 708 or Johnson@Heckscher.org.
Book your visit to the Exhibition