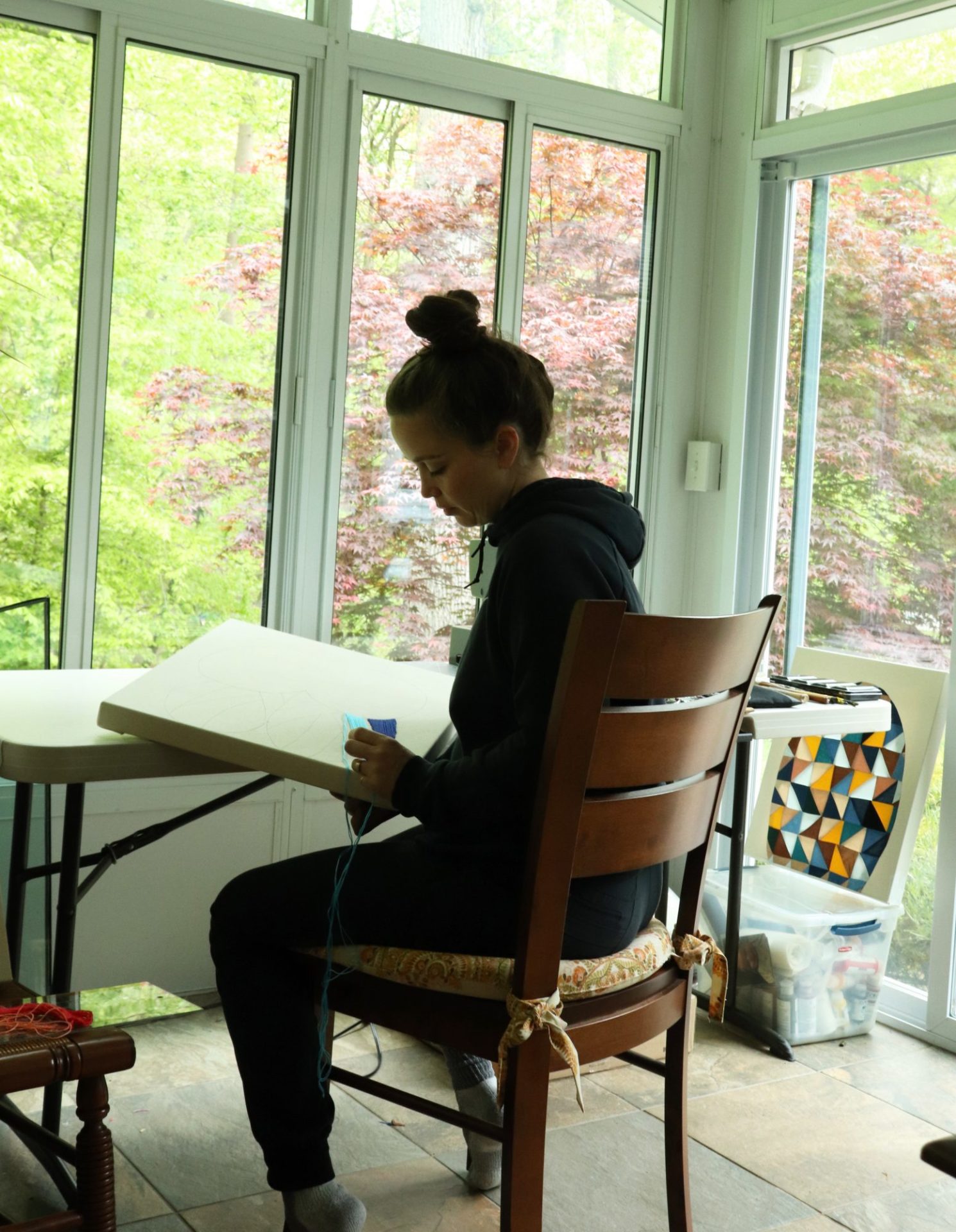 When The Heckscher Museum temporarily closed to the public, we were installing the exhibition Amanda Valdez: Piecework. Originally scheduled to open on March 21, the show debuted virtually instead. The exhibition will be on view in the Museum when we are able to reopen, thanks to the generous private collectors who have agreed to extend the loan of their paintings. Here Valdez shares her experience of the pandemic and the ways in which it has impacted her artmaking. 
The beginning of the COVID-19 quarantine feels so removed at this point. The hectic information gathering and twice-daily new life plans hatching for my small family of three had our heads spinning. As I was watching everyone immediately settle into and make the most out of the situation by baking bread, doing online yoga/dance classes, and making experimental watercolors, I was driving around a shutdown city frantically trying to ship an exhibition to Tokyo. All with the backdrop of taking care of our nine-month-old baby and having just returned from my father's memorial service in the Southwest. Life felt out of control. 
After two anxious weeks in our dense high-rise apartment in Manhattan we decamped to my in-laws' house in New Jersey. The first night I kept thinking, "what have I done with my life?" I felt lost. I have often thought that I would have sailed through quarantine effortlessly if not for the epic non-stop responsibility of a baby. I'm someone who can escape into my work in a highly introverted manner. Every year I go to an artist residency program for months to become immersed in my practice. I leave everything behind and work until the boundaries between myself and my paintings fade away. Or if I'm working out of my studio in Brooklyn, I spend the day alone and usually pretty focused. Being a parent to a small child with suddenly no child-care support was like running into a brick wall, yet my son's joy has brought tremendous levity to our daily life. 
Rhythm and routine revealed itself with time. My husband and I split the day (with a good amount of grandparent help sprinkled throughout). I have the mornings to work at my table here on small pieces or to go running in the nature park nearby, then in the afternoon I take care of our son. I have not wanted to miss the opportunity to experiment while my deadlines are on hold. To that end, it took me a couple weeks to get my grounding, so in that time I was making very loose ink drawings with a Japanese ink I brought back from my last trip to Tokyo. I have also been working with a set of high quality crayons, having fun getting different textures into my works on paper. Watercolors are also happening, but the learning curve has been higher! Now that I have adjusted to this new normal, once a week I go back to my Brooklyn studio for a long day of working on larger pieces. I get space to think and draw, and I plot out smaller paintings to bring back to my work table here.
With life slowing down I have finally gained the bandwidth to read novels again. Post-baby, my reading habits morphed to short form essays, but I have missed the longer relationships with characters that build up in a novel. In quarantine I have read Flights by Olga Tokarczuk, Killing Commendatore by Haruki Murakami, and am currently reading The Overstory by Richard Powers. I also decided it was time for a second read of When Things Fall Apart by Pema Chödrön. Clearly this is a great time for some quiet guidance. 
This summer I have no plans of crawling out of the nest we have built to try to make my life normal in the city. I can see the gifts of slowing down, staying out of the way of our emergency responders, and cultivating care for the moment we are in as a country. When the time is right, I look forward to sharing the Piecework exhibition with everyone at The Heckscher Museum!