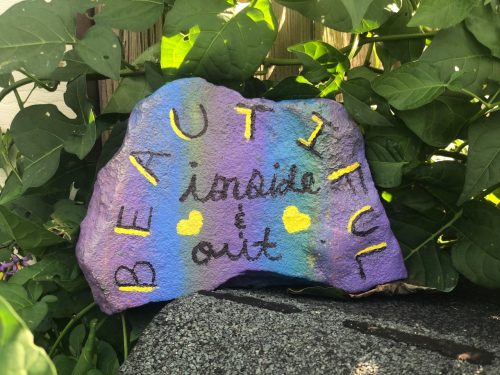 Create this project along with Lisa and Alyssa!
Instructional video will premiere here and on the Museum's YouTube Channel on Saturday, July 25 at 10 am.
Project Overview:
First, we will learn about what a Kindness Rock is and how we can express ourselves! After getting inspired by nature and our surroundings, we will get creative and make our own art. We'll be creating positive messages and art to spread in our community and loved ones!
Materials

smooth rock

acrylic paint

pencil

brushes

paper towels

cup filled with water

DecoArt Duraclear Gloss Varnish (or comparable water-based sealer for outdoors)



optional: paint pens/markers for details
Key Concepts:

Kindness

Lettering

Details

Background
Discussion:
Have you ever seen a kindness rock? Kids and adults can paint a rock with inspirational messages or sayings and then leave them in places for others to find! The intention is to spread kindness all around the world! 
Step-by-step Instructions:
Begin by finding the perfect rock or smooth stone. (You might want to collect a few, because once you start painting the first one, you will be excited to start the next!)

Make a list of special words or sayings that you like and want to share with others (love, friendship, hope, joy, etc.).

First paint the background of the rock. Experiment by blending different shades of color or using different colors.

When you are done, let the rock dry (if possible, place it in the sun.) 

Now you are ready to paint your special message. Draw it in pencil first to make sure that all the letters look just right. Using a very tiny brush (or a paint pen/marker if you have one), carefully outline and then fill in every letter. Add any additional details or designs.

When you are finished, let the rock dry.

To protect your rock when it's outdoors, you need to seal it first! To do this, you will need a clear varnish (look at our materials list for a recommendation). Brush a thin layer over your design and let it dry before placing it outside.

Find a special place to leave your rock for someone to discover it! 

Many local communities have #kindnessrocks Facebook groups where you can share in the fun! Often you can paint the group's hashtag on the bottom of your rock so that when people find them, they can take a photo and then post it online so you can see where your rock has travelled and how many people are finding it!
Share!
Please share photos of your finished works of art with us on social media and we will post some of our favorites here. And check back next week for our next project! #HeckscheratHome #MuseumfromHome