Artists interested in carving a LARGE-scale woodblock can apply to "print with us!"
Application Deadline: April 8, 2022
BIG INK, Inc. and The Heckscher Museum of Art are teaming up to host two days of large-scale woodblock printing at the Museum on July 9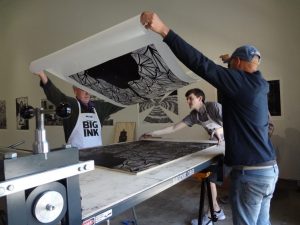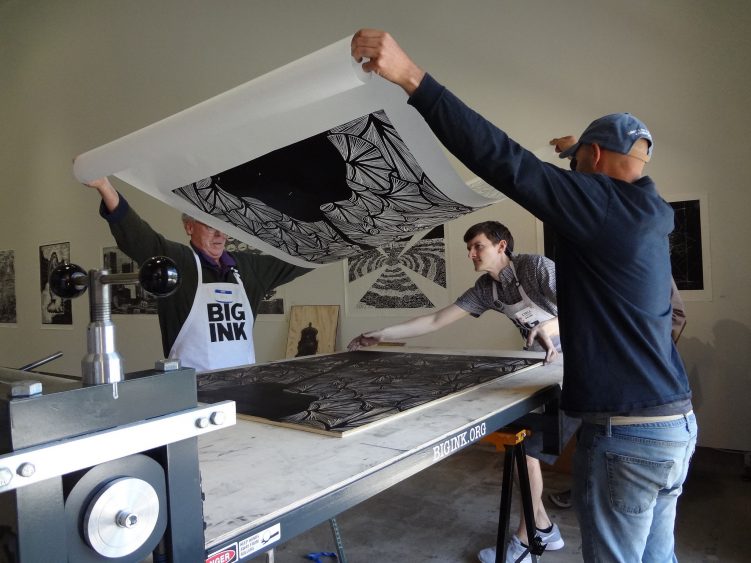 & 10, 2022!
This program has been organized in coordination with the exhibition Global Asias: Contemporary Asian and Asian American Art From the Collection of Jordan D. Schnitzer and His Family Foundation, on view June 4 – September 18, 2022. Global Asias examines the cosmopolitan, playful, and subtly subversive characteristics of contemporary Asian and Asian American Art.
The Print Your Art Out Call for Artists is a unique opportunity to connect with other local artists, have a larger-than-life printmaking experience, celebrate the long, rich history of woodcut, and gain inspiration from the Museum's Global Asias exhibition. NO EXPERIENCE NECESSARY!
Artists must create an original black and white design for woodblock printing that falls into one of the following three Global Asias themes: Exuberant Forms, Moving Stories, and Asias Reinvented. Find more details and information on themes.
This is an exclusive opportunity for artists to work with a master printmaker on oversized equipment in a Museum setting, bring art to a new audience, have woodblock a design printed on archival paper using traditional oil-based ink and ready for exhibition and sale, and network and collaborate with Long Island's rich cultural arts community.