More than 1,000 votes were cast this year for the Long Island's Best 2023 Visitors Choice Awards, by guests visiting the Museum in person as well as online.
The Museum is pleased to announce the following winners: Vazira Khakimova, Grade 12, Hicksville High School, won the  Vistors Choice Award voted by Museum guests; and  Abigail Montes, Grade 12, Division Avenue High School, won the Virtual Visitors Choice Award through online voting.  Congratulations to both artists on this incredible achievement and thank you to everyone who voted!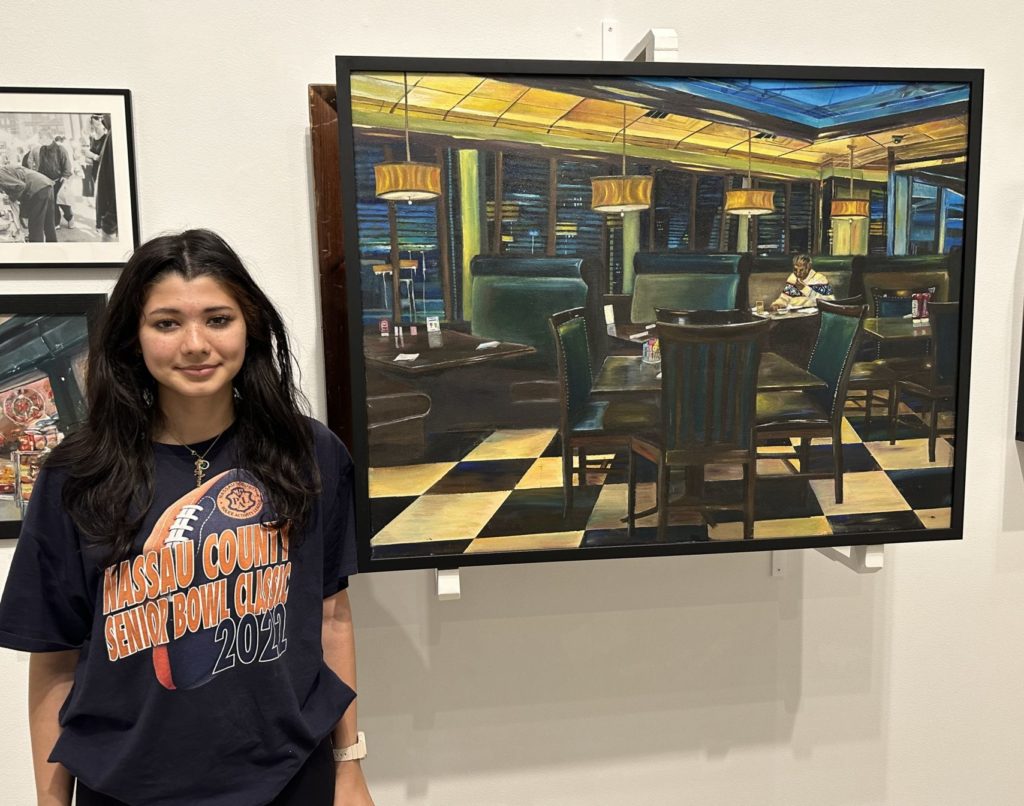 Vazira Khakimova's two-sided acrylic work, All is gone was inspired by Brianna L. Hernández Baurichter's Anticipatory/Después – Esperate  from the Long Island Biennial 2022.  "The artist illustrates the passage of time while emphasizing the inevitability of the situation in the image. It's clear the main figure's condition isn't improving regardless of the amount of flowers she receives with well wishes for her to get better," explained Vazira. "For my piece, I wanted to portray a similar paradox. I stretched a canvas on both sides of a stretcher to create a double sided look, and used a mirror so the other side could be viewed. I want the viewer to experience and understand the inevitable passage of time just like in Baurichter's work…The mirror serves as a way to reflect and reminisce about a happier time. "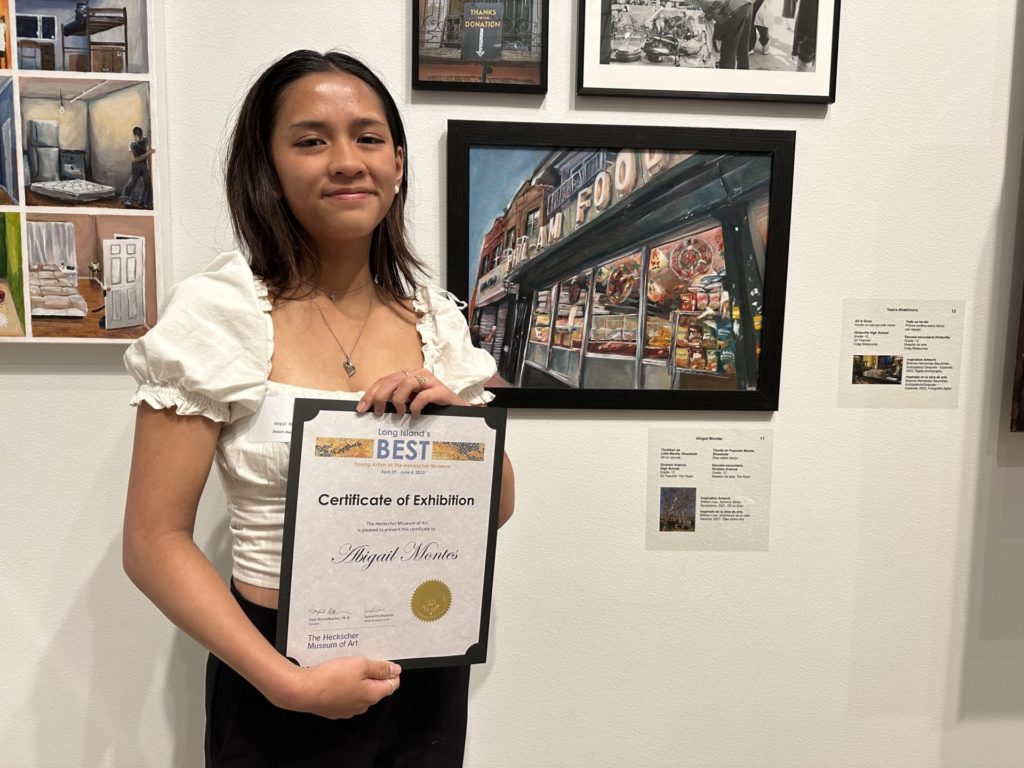 Abigail Montes work, Tindahan sa Little Manila, Woodside, was inspired by William Low, Sammis Street Sycamores, from the Long Island Biennial  2022. "Low takes the feeling of walking in the suburbs during a peaceful afternoon and encapsulates that familiarity with neutral tones  and textured brush strokes. Growing up as a Filipino-American, I often felt disconnected with my culture living in a majority-white community. Woodside, Queens was the closest thing to the Philippines and made me more familiar with who I was. Instead of trees that shaded my walks to the Filipino grocery store, I had the tall buildings filled with chismosa titas and laughing titos. In contrast to Low's work, I used bright saturated colors and short thin strokes to represent the movement and noises of the city. Using a canvas board provided another texture, capturing the bustling and roughness of walking under the train overpasses that rumbled the streets," said Montes.