Opening October 1, 2022
The Long Island Biennial, a juried exhibition featuring exceptional art from contemporary artists across Suffolk and Nassau Counties, has announced the final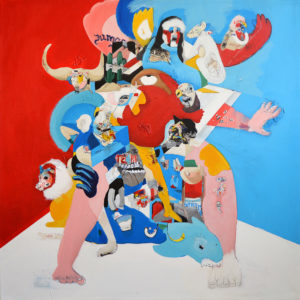 list of 2022 exhibiting artists.  This year, 248 artists submitted 723 works of art for consideration. The jurors selected 95 artworks by 57 artists for inclusion in the exhibition.
The exhibition represents living artists on Long Island communities stretching from Freeport to Huntington to Sag Harbor.  As initiated in 2020, many artists will show two or three artworks, presenting viewers with a fuller picture of their recent work.
Launched in 2010, the Long Island Biennial offers Long Island's professional artists a singular opportunity to share their work through a prestigious exhibition, and provides a unique and exciting space for visitors to see a snapshot of contemporary art on Long Island.
The jurors for the 2020 Biennial are Heather Carter, the founder of Carter Fine Art Services (CFAS);  Gabriela Gonzalez Dellosso, a fine artist known for her homage self-portraits of historical women artists and narrative paintings; and Susan Van Scoy, Ph.D, an Associate Professor of Art History at St. Joseph's University, Long Island, where she teaches courses on the history of photography, and American and Modern art.  Learn more about the jurors.
"We were so impressed with the entrants' mastery of techniques, use of innovative materials, and engagement with contemporary issues such as the pandemic, climate change, and social justice," said Van Scoy.  "It was difficult to narrow it down. We aimed to provide a balanced exhibition with figurative, conceptual, and abstract works–paintings, sculptures, prints, and photographs, you name it—it will have something for everyone." Congratulations to all the exhibiting artists!
Long Island Biennial Sponsored by
Robin T. Hadley
The Cunniff Family
Long Island Biennial  2022 Exhibiting Artists
Edward Acosta   Commack
Chris Ann Ambery   Hauppauge
Beth Atkinson   Northport
Jason Aurelio-Thomas   Oyster Bay
Shain Bard   Huntington Station
John Benevento   South Huntington
Darlene Blaurock   Wantagh
Karl Bourke   Huntington Station
Fernando Carpaneda   Freeport
Mei Fung Elizabeth Chan   Stony Brook
Leeanna Chipana   Central Islip
John Cino   Patchogue
Sally Edelstein   Huntington
Scott Farrell   Huntington Station
Sheila D. Fox   South Huntington
Denise Franzino   Huntington
Peter Galasso   East Setauket
Keith Gamache   Lynbrook
Raymond Germann   Ridge
RJT Haynes   East Hampton
Brianna L. Hernández Baurichter   Southampton
Candace Hill Montgomery   Bridgehampton
Holly Hunt   Shirley
Roshanak Keyghobadi   Syosset
Susan Kozodoy Silkowitz   Lynbrook
Michael Krasowitz   Huntington Station
Neil Leinwohl   Rockville Centre
William Low   Huntington
Christa  Maiwald   East Hampton
Gabriela Manfredi   Middle Island
Gina Mars   Huntington Station
Tom Mason   Locust Valley
Patricia Maurides    Sag Harbor
Vernon McAuley    Selden
Shawn McAvoy   Melville
Cheryl McBride   Freeport
Paul Mele   Island Park
Margaret Minardi    Northport
Kasmira Mohanty   Farmingville
Kayla Moz   Wantagh
Edgar Moza   Westbury
Eileen W. Palmer   St. James
Steve Palumbo   Quoque
David Peikon   Bethpage
Michael Ricigliano   Locust Valley
Michael Ruggiero   East Hampton
Lauren Ruiz   Bellport
Lorena Salcedo-Watson   Bellport
Kate Schwarting   Smithtown
Alisa Shea   Northport
Laura Siegelman   Plainview
Lauren Skelly Bailey   Hicksville
Christine Tudor   Seaford
Mark Van Wagner   East Patchogue
David I. Weiner   Long Beach
Ellen Wiener   Southold
Despina Zografos   Garden City