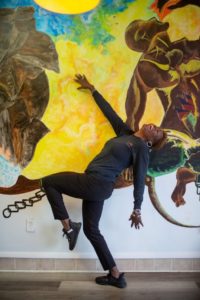 What does HOME mean? In coordination with The Heckscher Museum of Art's exhibition Raise the Roof: The Home in Art, on view through March 10, 2024, three new community members have added their perspectives on this engaging question.
Marie Michele Destil, owner of Gingerbites Haitian Bistro; Amaru Jones, President, Leaders of the New School; and Monica Ortiz-Menier, Former NASA Software Tester and Gallaudet University Alumna, recently recorded their answers. Explaining that home "embodies love," "without home there is no me," and "my paintings always have an element of home," each person presents a unique perspective based on their thoughtful and varied experiences.  They join previous participants Joan Kim Suzuki, Allison McGovern, and Rene Flagler.  Watch the entire video.
This video is also featured in the Museum for visitors to experience alongside the Raise the Roof exhibition.  Nearby is an interactive response station where Museum visitors are encouraged to provide their own words and drawings about home.
About All the Featured Community Members:
Marie Michele Destil Owner of Gingerbites Haitian Bistro Marie Michele Destil is a proud mother of three children. She came to the US at the age of 14 and grew up in Cambria Heights, Queens. She worked for over 22 years as a manager in New York City for Estee Lauder and Shiseido. She has been living in Dix Hills for over 20 years and now owns and manages both Juvance Cosmetics and Gingerbites Haitian Bistro in Huntington. She is also a committee member of the Haitian Ladies of Long Island (HLLI), a group created as a sisterhood to support each other and others in need. During the pandemic, HLLI supported and donated food to hospitals, nursing homes and ambulance corps in Nassau and Suffolk counties. Marie Michele has also teamed up with Huntington politicians to help families in Haiti after past hurricanes.
Renee Flagler, Executive Director of Girls Inc. of Long Island Renee Flagler is an award-winning author, coach, and the Executive Director of Girls Inc. of Long Island, where the mission is to inspire all girls to be strong, smart, and bold. Girls inc. of Long Island is the Long Island Affiliate of the National Girls Inc. organization. Renee has a long history of community service and engaging in advocacy on behalf of women and girls.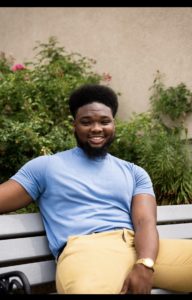 Amaru Jones, President of Leaders of the New School Amaru Jones is 25 years old and currently resides in Huntington Station, where he grew up for most of his childhood. He is an educator, a community advocate, and serves as President of the non-profit organization Leaders of The New School, which gives youth social, political, and economic resources.
Joan Kim Suzuki, Artist Joan Kim Suzuki is an Asian-American artist living in Long Island. Her work is a reflection of her childhood, growing up hearing stories of the culture she never experienced. She always felt confused about whether she was American or Asian, until she had children of her own and after a long time of soul-searching realized that she can be both Asian and American. Her art tells a story, and each piece has a memory painted into it.
Dr. Allison McGovern, Anthropological Archaeologist Dr. Allison McGovern, an anthropological archaeologist, is currently a Visiting Lecturer in Anthropology at Columbia University. Her multidisciplinary research integrates archaeology with historical research methods, public engagement, planning, and historic preservation advocacy. She is working on a book entitled Long Island Dirt which explores local histories through archaeology.
Monica Ortiz-Menier Former NASA Software Tester, Gallaudet University Alumna Monica Ortiz-Menier is a member of the Accessibility Advisory Group for The Heckscher Museum of Art with focus on individuals who are deaf, deaf-blind, and have low vision. Monica is a visitor to Long Island and a former software tester for NASA (Johnson Space Center) in Houston, Texas. She is a Gallaudet University alumna and an advocate for the SSP (Support Service Providers) program, which helps deaf-blind individuals regain their independence with the help of a human guide who communicates in ASL/speech. Currently, she is working to bring awareness to this program to help pass a bill that would allow all deaf-blind individuals in New York State to have access. ASL interpretation in the video is provided by: Suzanne Dooley, CI, CT.