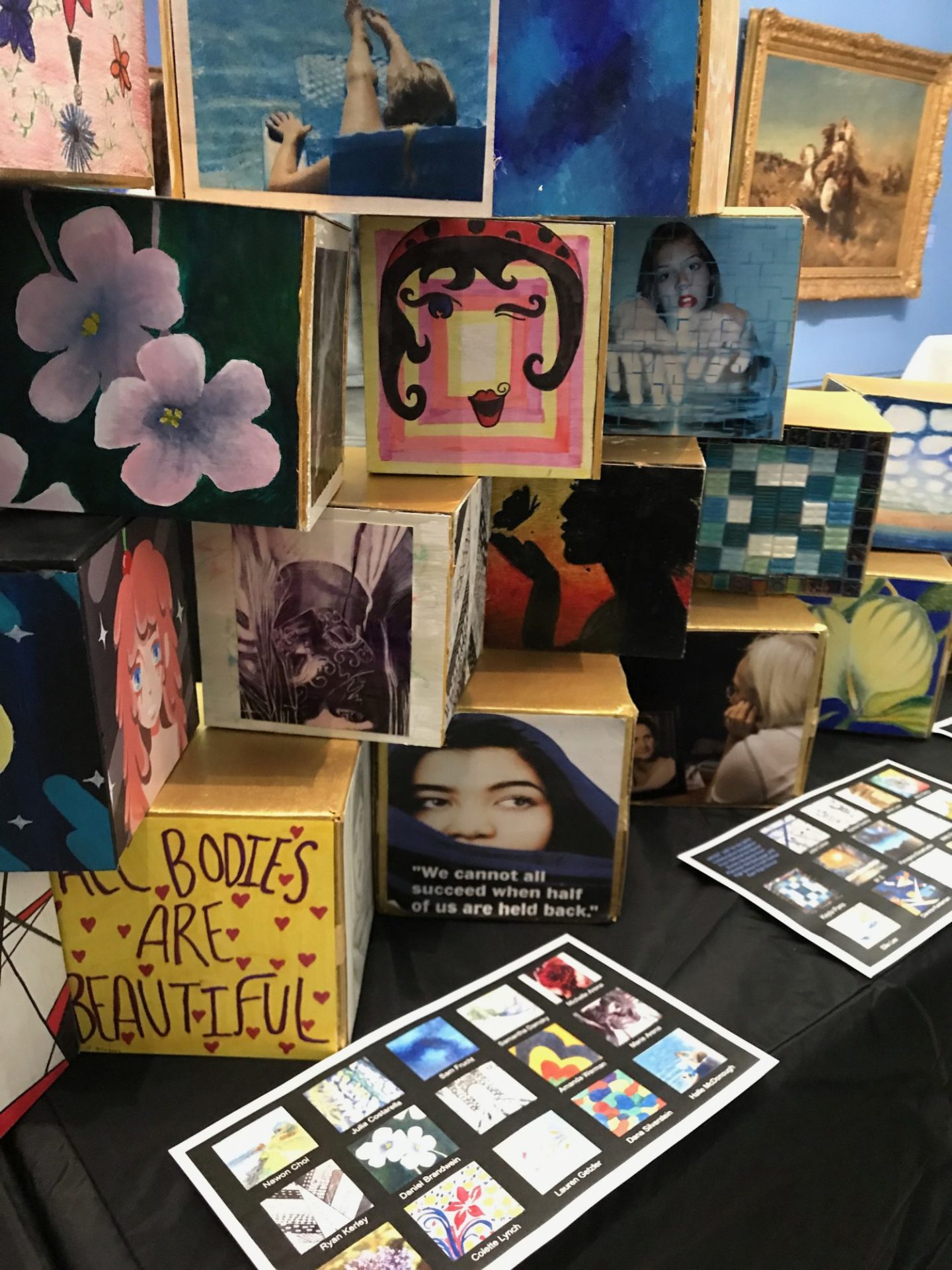 "Connect, Collaborate and Create!" captures what inspires the National Art Honor Society's (NAHS) 6 X 6 Collaboration program, now in is its sixth year partnering with The Heckscher Museum of Art.  Founded by Long Island educators Rosemarie Elder, Plainview-Old Bethpage John F. Kennedy HS; and Jeani Ritter, Harborfields HS, Allyson Uttendorfer joined the effort in its second year.  Uttendorfer has been an art teacher at Half Hollow Hills HS East for 15 years, currently teaching AP Art History and AP Art and Design with a photography focus.  She was a Hecksher Museum staff member for 5 years, which has made "the student-Museum connection an important part of my curriculum."  Uttendorfer talks about the growing NAHS program.
Heckscher Museum: How has the NAHS Collaborative evolved over the years?
Allyson Uttendorfer: The program began with only two schools.  The goal is to allow time for this unique group of Long Island art students, NAHS members, to get together, collaborate and share outside of the school setting.  The program is now in its 6th year and includes nine schools throughout Nassau and Suffolk counties. We hope to continue to recruit districts and NAHS Chapters.
HM: How is this program unique?
AU: The program is unique because we are taking the NAHS club experience and bringing it into the wider Long Island community.  Clubs are typically isolated within a school or surrounding area, this program is uniting students with a shared artistic vision in person, making real connections as part of this program.  All of the students gather at the Heckscher in an introductory event, students see each other again at the artist reception and through social media, and they can continue this relationship throughout the school year. The culminating exhibition, which began as small 6″x6″ cubes, grew into 36″ cube.  The display is always impressive, as each year's installation includes all of the previous year's cubes. It grows with the program.
HM: What has been the feedback from students and teachers?
AU: Teachers and students really enjoy the program, which also offers art students an exciting opportunity to exhibit their work in the Museum.  Students love how each year there is a new theme, relevant to contemporary issues and which connects in some way to an exhibition featured at the Heckscher.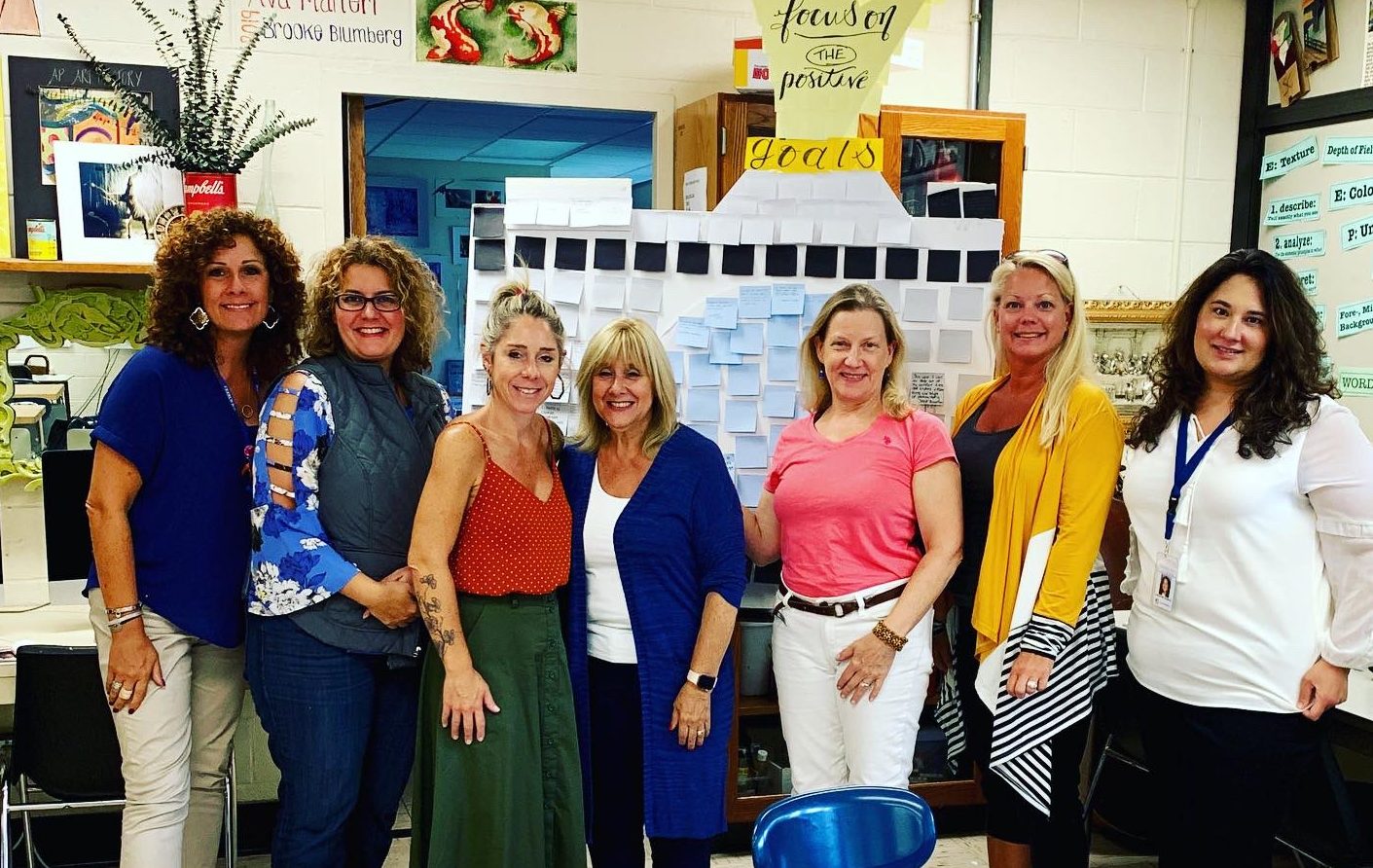 HM: 2020 was a little different.
AU: This year all of the collaborating teachers continued work as usual, as best as we could collecting finished work, printing and preparing work for the exhibition. We created a virtual exhibition to highlight student achievements.  We do typically digitally document the exhibiting artists to share remotely and on social media and district websites, so that was not new.  However, the actual in personal exhibition was lacking and students were disappointed.  The positive side is that each year the previous cubes are on view with the new work, so the 2020 artist will still have their work shown along with next year's group of students.
AU: This program has become an exciting addition to our NAHS calendar of events. Members look forward to it and the program has been running long enough that we have featured siblings and some students exhibit as juniors and seniors.  The program has a great deal of potential for growth.  I am proud to be a part of such a wonderful program that engages students and provides an outlet for creativity and community connection.
See the NAHS virtual exhibition.